Our most recent trip to the beach was much more inclusive for me than the one I wrote about a couple of weeks ago here. I felt defeated and a bit heartbroken after that trip to the beach and I wanted to see if there was a way to be more involved. I know a beach day now will never be as it was before my spinal cord injury, but I had hope that it could be better.
After a quick Google search I found a few small articles that pointed me in the direction of Feral Boardsports on Marine Drive in White Rock, British Columbia. I couldn't find a lot of info, but it looked like there was a beach wheelchair available. I phoned the store on the morning we were planning to go to White Rock and was excited when they confirmed that they had two beach wheelchairs available by donation.
When we told our kids that I might be able to come join them on the sand they were thrilled. There were zero complaints when we told them we had to take some extra time and stop at the store first (especially considering we didn't find a close parking spot). If you have kids, you know that anything that takes time away from their fun usually results in the kind of complaining that you would expect if the sky was falling. But not this time. This time they were helpful and quiet and patient (it was weird!).
There were two styles of chairs and I chose the three-wheel version because it was lower
to the ground and would make my transfer down to the sand (and back up) easier. My kids thought it was the coolest thing ever and it is a pretty awesome chair but the one thing it is not, is subtle! I don't love feeling like I'm being stared at and, of course, I chose one of the busiest days at the beach to try out this wheelchair. It helped that my daughter rode down on my lap and waved at everyone like she was in a parade. Between my husband pushing the chair and my boys following behind with our big wagon full of beach supplies it could have been a parade. I convinced myself that everyone was looking at my daughter and not me.
Once we made it through the crowd and down to the beach I felt like much less of a spectacle. And the two or three minutes of what felt like the 'paraplegic on parade' was instantly worth it. The beach looks bigger when you're down at sea level and not staring at it from up above. I would think most people look out to horizon, over the ocean and down the beach. I sat there for a few moments instead looking back where I had come from. It was down a hill and over rocks, seaweed and all of the other things that take cover under the ocean when the tide is in. I honestly didn't think I would get this particular view ever again. I wanted to cry and smile and laugh all at once. And I really wanted to build a sandcastle!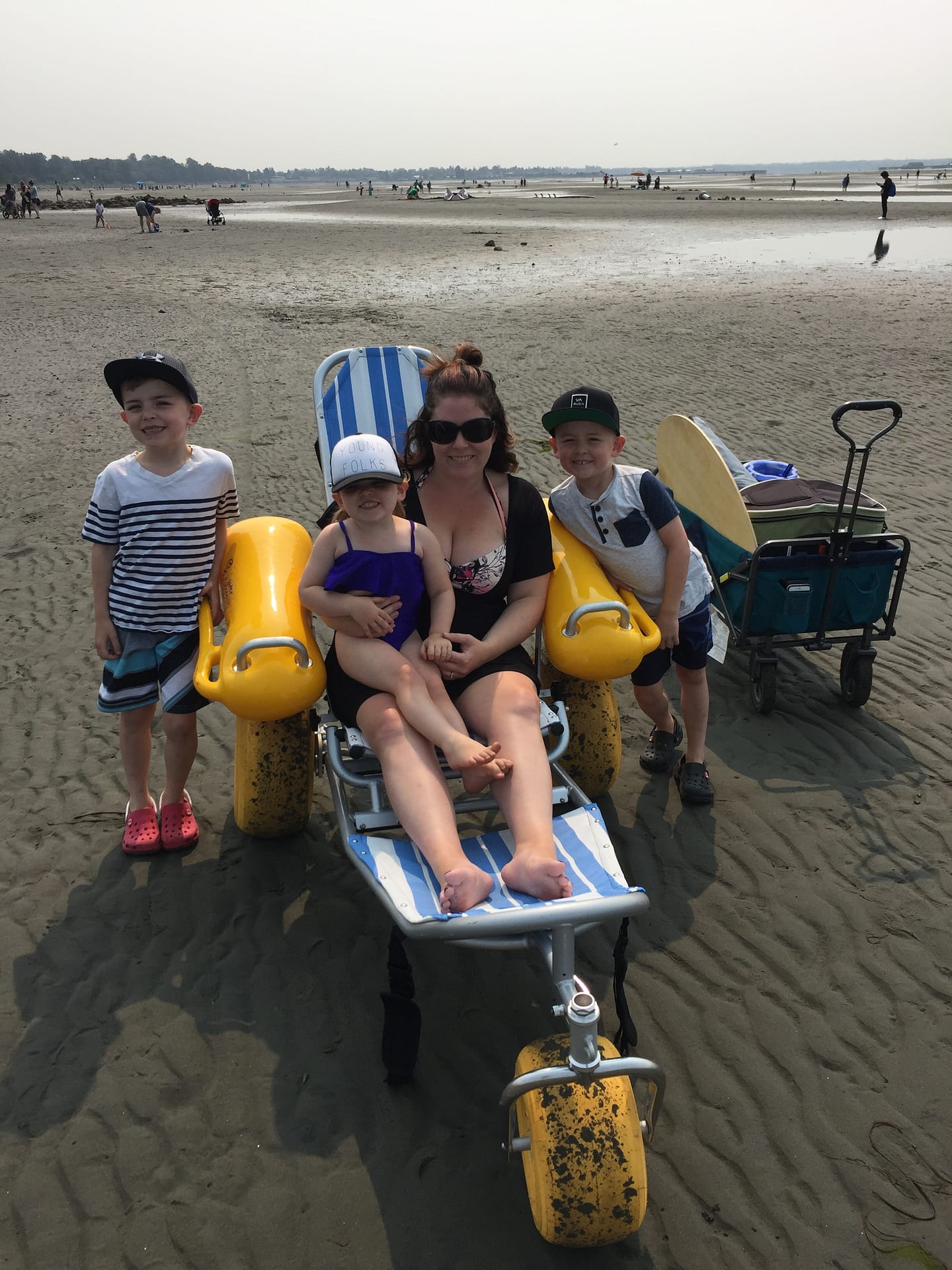 Covering my daughter's feet in sand to watch her escape in a fit of giggles replaced a piece of my mama heart that had been missing. Digging holes in the sand with my boys and working as a family to build a sandcastle made me feel, for a moment, like nothing had changed. I had sand all over my legs but it really didn't matter -mostly because I couldn't feel it- but also because I didn't care how dirty I was. I was at the beach, in the sand, playing with my family like I had yearned for just weeks before.
I wrote a poem last summer (weirdly enough while I sat watching my family at the beach) and a few of the lines that kept coming back to me on this most recent beach trip were these:
"I sit alone
Watching a life I used to be living
I attempt to take part but it's not quite as fulfilling"
I spend a lot of time making an effort to participate but in many cases I come out of it still feeling the loss and feeling like something is missing. I can't say I felt like that after our day down at the beach. Instead I felt as though I got a little piece of myself back; my life back. It may seem simple, a beach wheelchair, but that wheelchair gave me an experience that my injury took away from me. It gave me back the type of family experience that I dreamt of when my children were too tiny to take to the beach. It was a different experience but it was a hell of a lot better than watching it from up above on the grass.
I always wanted to be able to say I had gumption. And after I took the initiative to search online, call the store and then faced my fear of being stared at for the ride down to the beach and back up again, I thought to myself that maybe, somewhere in there, I have a little bit of gumption. (Don't you just love that word?)
Every beach should be accessible. Every wheelchair user or person with reduced mobility should have the opportunity to get to the beach. For me, it helped get moments back with my children that I feared had been taken away forever. But a person's reason for wanting to be at the beach is not important. Regardless, there should always be a way for them to get there and there is never a good excuse for a beach that is inaccessible.