The world is full of well-intentioned people. I try to remember that. I really try to remember that. Understanding that an offer of assistance is packed full of good intentions helps me keep a smile on my face and annoyance out of my voice when I politely decline. But seriously. Saving everyone else's feelings while my self-worth steadily declines isn't really working for me anymore. What I want people to understand is that every offer of help is a reminder that my disability is seen before I am. Every question of "can I do that for you?" makes me think that you don't see my capabilities; it makes me think that you don't see me as an equal. So please, see me! See that I am capable. Being in a wheelchair does not mean that I am helpless and lacking in self-sufficiency.
I'm naturally an incredibly anxious and cautious person. So please believe me when I tell you that I have zero qualms about asking for help when I feel I really need it. I have no desire to injure myself in the process of trying to prove that I can do something on my own. My pride actually takes a much bigger hit if I end up on the ground than if I ask someone for help. I'm actually capable of judging when I can and cannot do something on my own. I may not have been in a wheelchair for very long but I've been in one long enough to know my own limitations and when I need to ask for help. Your best bet is to do nothing unless you are asked.
There is always someone who thinks they need to ask if I need help with anything and everything but, thankfully, those people are few and far between. For the most part, there are four common scenarios where I get the most offers of assistance: car transfers, hills or rough terrain, opening doors and reaching for anything that is not directly in front of me (and even sometimes when it is).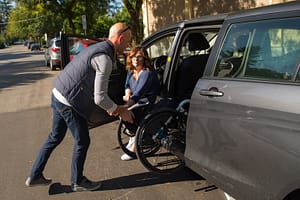 I understand that a paraplegic getting in and out of her car (with her chair) is not something that one usually sees every day. It looks difficult and a little bit awkward. But while it is definitely more work for me than it is for those of the able-bodied variety, there is satisfaction in having the ability to do it on my own. So please kind stranger, realize that I did not leave my house all alone without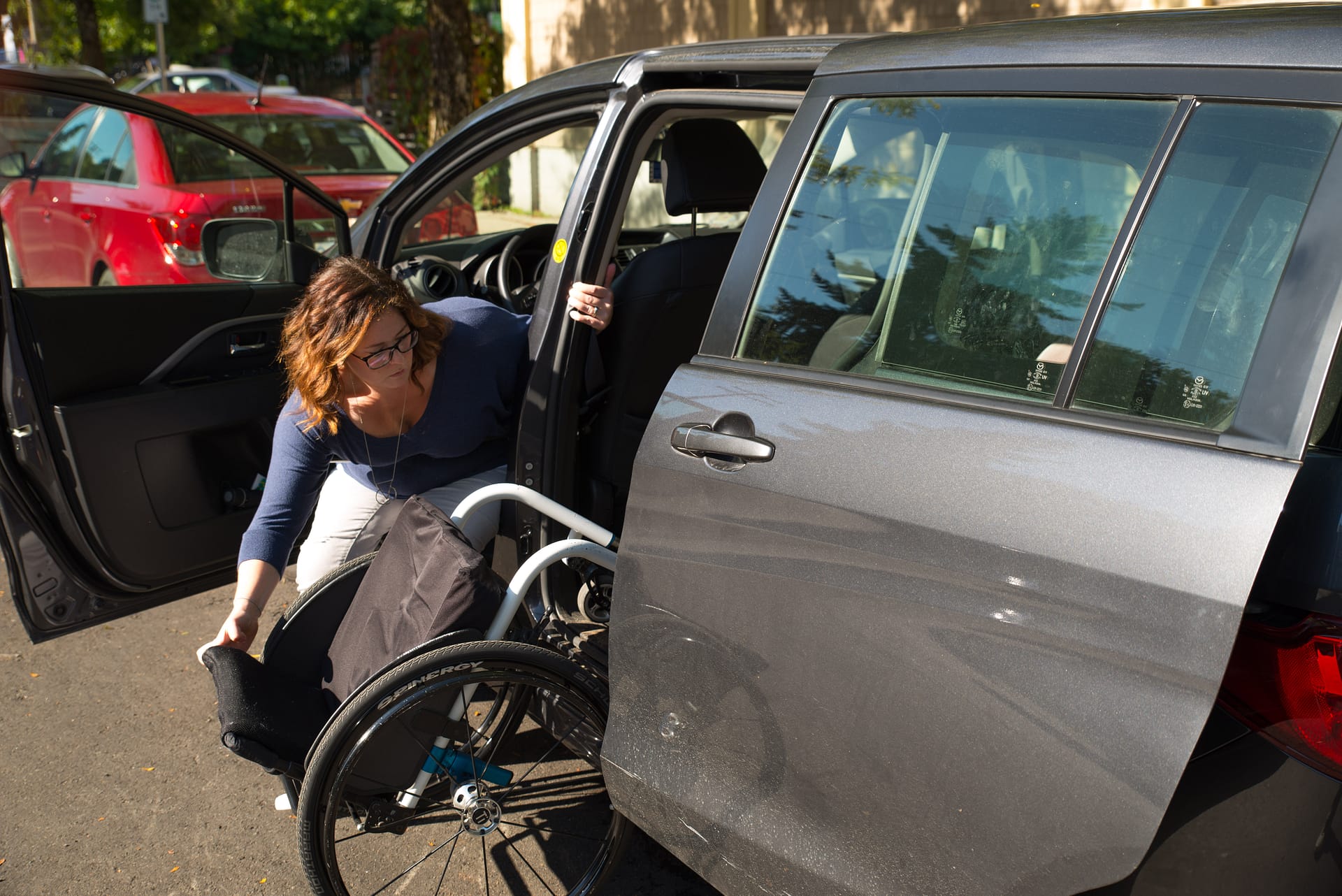 knowing how to get myself in and out of my car – that would have been very stupid on my part – and refrain from asking me if I need help. Please see that even though it is different, I am doing it and I am capable. Now, if you see my chair roll away from my car then your assistance would be greatly appreciated. Same goes if you see me on the ground because then, clearly, something has gone wrong.
As for managing hills or difficult terrain while in my chair, this is one of those times where I know my limits. If I am uncertain of my ability to push up a certain hill or get over less than ideal terrain then I will tell you. If I don't tell you or ask you to stay close 'just in case' then please carry on as though you would with anyone else. Checking in on me unnecessarily highlights my disability and, again, makes me feel like the belief is out there that I am incapable of not only the physical task at hand, but also the mental task of knowing myself and my own parameters.
I can't say I really mind when someone opens a door for me. It's a kind thing to do whether the person you are opening the door for is able-bodied or physically impaired. I mostly just find it funny when someone goes obviously out of their way to get a door for me because they think I really need the help. I've seen people run (actually run) from behind me in order to get the door. Or they are opening the door for themselves and see me coming from a distance and wait for an obscenely long amount of time with the door open so as not to leave me in that unfathomable predicament of having to open a door myself. Like I said, this one mostly just makes me smile but it also emphasizes yet again how much people don't understand about physical differences and the capabilities of those who have them.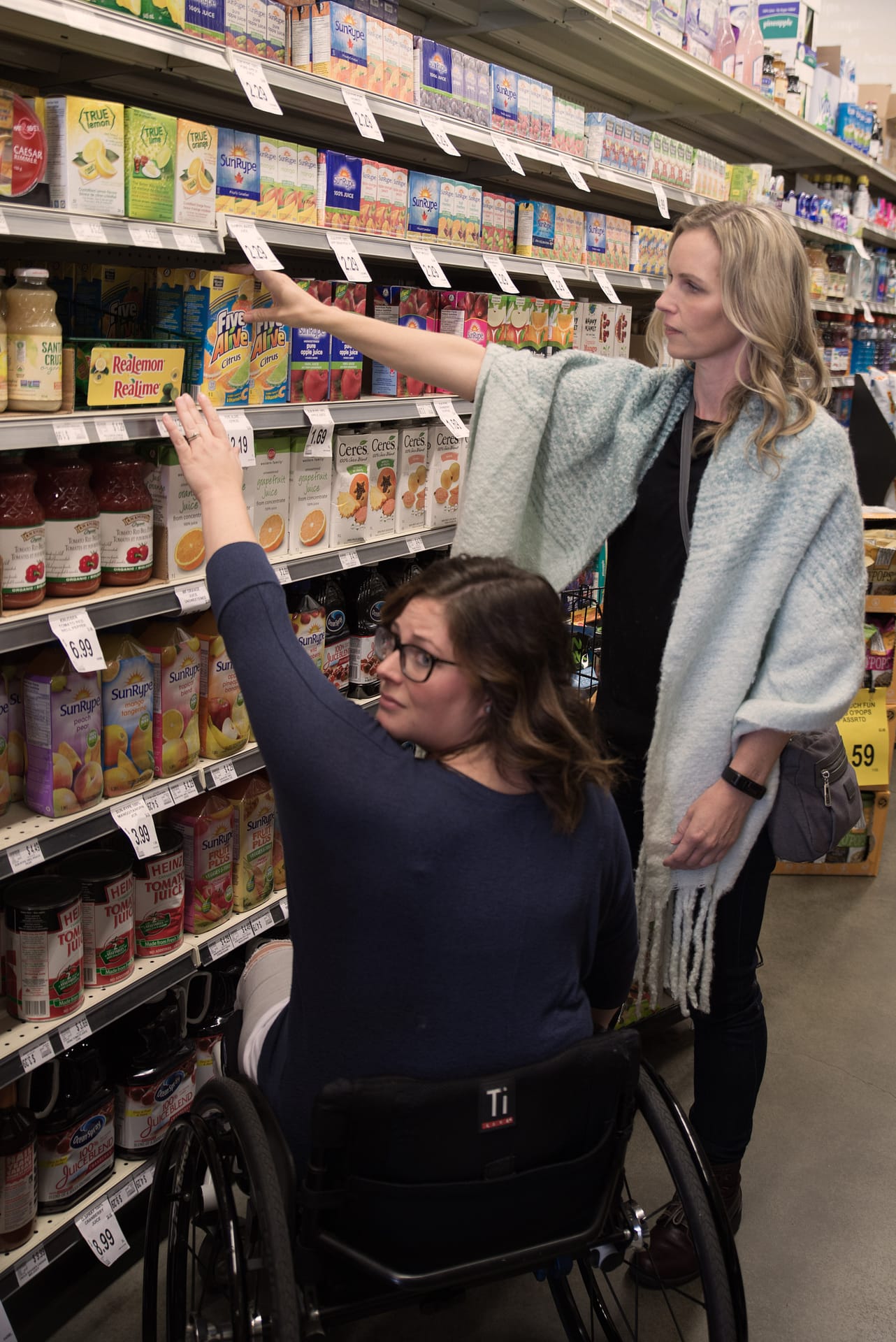 When it comes to things being out of my reach, I'm kind of used to it! Being only 5'2" tall, I often had to ask for high-shelf assistance in my able-bodied past. Now I sit a couple of shelves lower which can be frustrating but it's certainly not one of my biggest problems. With the level of my injury being around the bellybutton area, I have the ability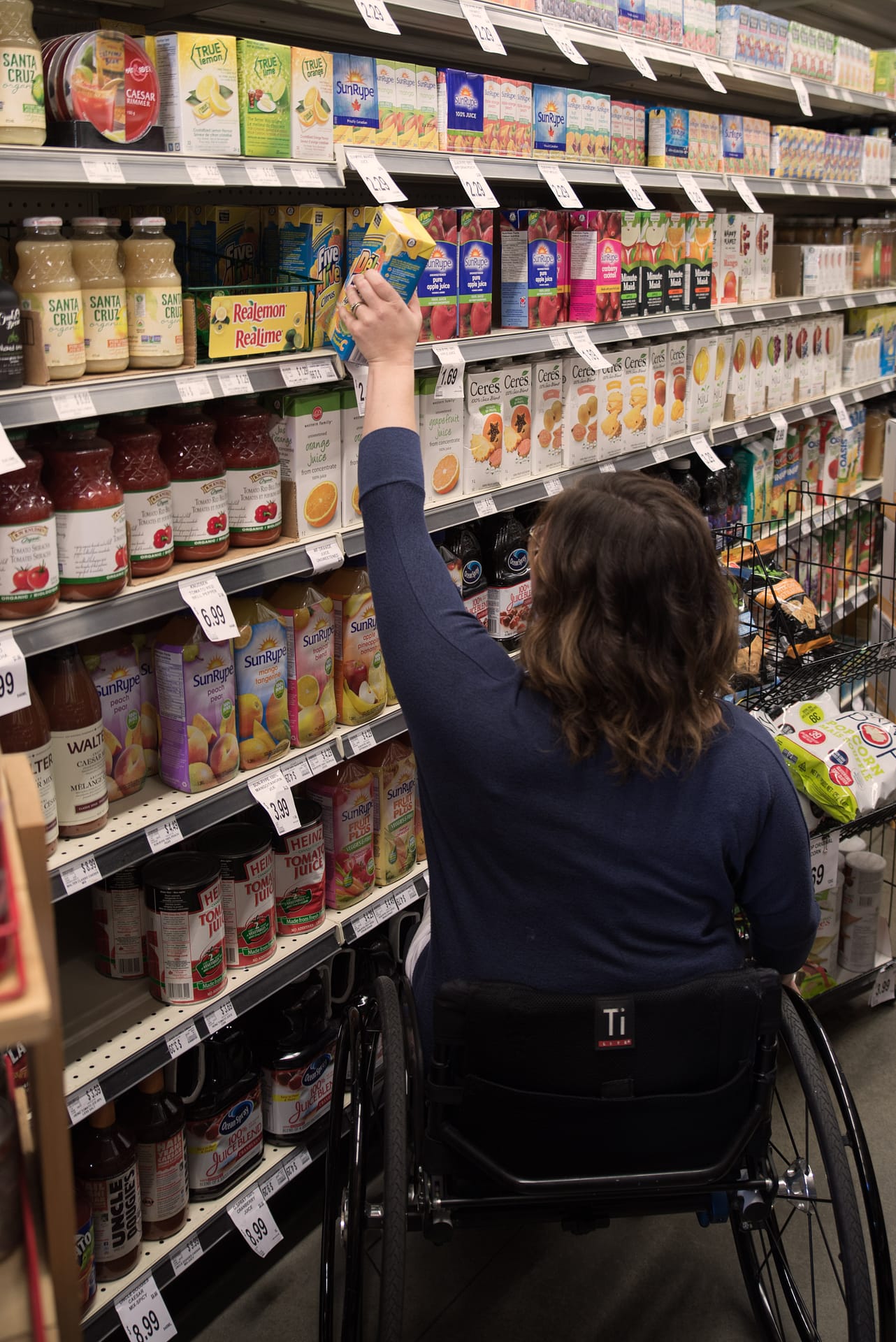 to easily bend to the floor and anywhere in between to pick up whatever I need. This isn't something that people easily understand but, even when they do, they are constantly picking things up for me (and I drop a lot of stuff). It is another small aspect where my capabilities feel invisible. But not only that, my theory is 'if I don't use it, I lose it'. If I don't use the strength that I have to consistently move my body in the way that it is able, I will lose those muscles and flexibility. I want to keep any and all function I have left!
My family and close friends have mostly all learned to keep their helpful tendencies to themselves unless asked otherwise. When we are out in public this usually means that people look at whoever I'm with like they are a complete jerk because they are not helping me up a hill or with a door. But I'm okay with that. Isn't that nice of me? Even so, if these strangers would take a second to ignore the fact that my companion isn't helping me and notice instead that I am doing it unassisted, it could just possibly change those pre-determined opinions they have.
So here I am to tell you that I am capable. Please trust that I am self-aware and please know that I have the ability to ask for help if I need it. In most cases, the times I ask for help actually have nothing to do with the scenarios where people assume I need help. Most recently, my boys were refusing to get in my car after school because there was a wasp in the backseat. I looked at them out my window and asked them what it was they thought I was going to do about it. After opening the windows, my options were pretty well tapped out. I spotted a friend nearby and he saved the day by assuring the backseat was wasp free and child-friendly. Probably not the type of help most people envision me needing but I certainly wasn't afraid to ask.
With all of the people that offer to help, there are also people who have never treated me any differently. They almost expect me to keep up and never suggest that they have doubts about my abilities to do so. The first time someone handed me their baby without hesitation I think I was more nervous than they were. You never want to be the person who drops a baby! It was through the confidence of these people that I started to gain my own self-assurance. Sometimes I think these people have too much faith in me but it pushes me to try and, most of the time, I succeed. If instead I fall on my ass then we laugh and figure out how to make it happen with a little bit of help.
There are times that I need help and I am okay with that. But please see me and not what
makes me physically different. Treat me as your equal. You can trust that I know myself and my limits and can articulate my need for help if it is required. And if you take anything away from my ramblings today then please let it be this: if you feel you need to help someone in a wheelchair, always ask first and always wait for a response. Helping someone when they aren't expecting it could potentially cause an accident and an injury. Remember that even though the wheelchair thing is foreign to you, for the person in the chair it is familiar and they are experienced. Have faith that they can handle themselves and see them for their abilities and not their disabilities.
---
After this post went live I received a lot of feedback. It was mostly positive but not all of it. Please see my next post Reclaiming My Anonymity to hear my response.