We are home!  We returned from our trip to Disneyland just over a week ago and I'm already suffering from California withdrawal (the unseasonably freezing-cold weather and isolated flurries here at home are not helping!). I was pleasantly surprised that our trip went so smoothly. We were all good and exhausted by the time we got home; you don't go to Disneyland to relax. The trip was wonderful! Being able to still have these special vacations and memories with my family means the world to me. I'm excited to give you the rundown on our little getaway.
(Please keep in mind that I am only writing about my disability in this post. There are other disabilities that airports, hotels, and Disney accommodate as well but I can only speak to what was done for me.)
The Flight
There is something about going to the airport that makes me a little bit giddy. The thought that so many lives converge momentarily is enchanting. There is so much mystery – you never know who is coming or going or what their final destination may be. You find yourself next to people who, in a matter of hours may be on the other side of the world. It's the perfect place for people watching and daydreaming. But my love for airports is almost equalled by my anxiety about flying.
I've never been a big fan of airplanes. The anxiety has never stopped me from actually going anywhere (although I have come close to cancelling a trip or two) but I definitely have a massive fear of flying. Now that I rely on a wheelchair to get around, the airplane experience has changed but my anxiety has just powered right on through. Even so, I did make it on the plane. But how exactly do I get onto the plane?
Like everyone else, we check-in and deal with our bags. I managed to get myself randomly selected for extra security screening this time around so that took a little extra time. Because I cannot go through the metal detector they always do a thorough manual search. They will ask me if I would prefer a private room for my screening. I know sarcasm doesn't play well in airports so I always politely decline but my answer of choice would be "no sir, I actually prefer if you touch me in plain sight of all of these witnesses". I also enjoy watching security guards fumble over their words while trying to decipher whether or not I'm able to stand. Some are quite comfortable and simply ask "are you able to stand?" (this would be the correct tactic). But others are not quite as comfortable and talk around their point. I only let them struggle for a second or two (or ten) before I just tell them.
My wheelchair is too wide to make it down the narrow aisle of an airplane. I have to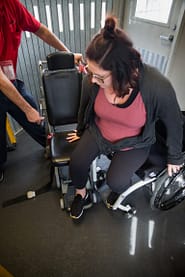 transfer into an aisle chair, which is essentially a ridiculously tiny wheelchair that I doubt even my pre-child-bearing hips would have fit. I take my own wheelchair down to the airplane doors and transfer there. I am able to transfer on my own but there are assistive devices for those who cannot. After the transfer, I become completely reliant on other people (my least favourite thing). Not only do I trust that airline personnel will wheel me in and out of the plane safely, I trust that – in an emergency – I will have assistance and I trust that airline staff will take due care to ensure that my wheelchair makes it onto the airplane and arrives without incident at my destination. Unfortunately there have been far too many cases of airlines damaging or losing wheelchairs, which makes leaving mine outside the plane a very anxiety-inducing experience. My chair is manual so there is a bit less concern than if you have a power chair with multiple components that could be damaged. We have only flown with West Jet since my accident and the staff have always appeared diligent and helpful. I always try and remember to grab my seat cushion off of my wheelchair to bring inside the cabin with me. Reason one being that I don't want it to fall off and get lost, and reason two is that I should really sit on it during the flight in order to prevent skin breakdown. Still, I only remembered to do this on the way there. I can't remember everything!
Once on the plane there really isn't much to do. They do not bring the aisle chair on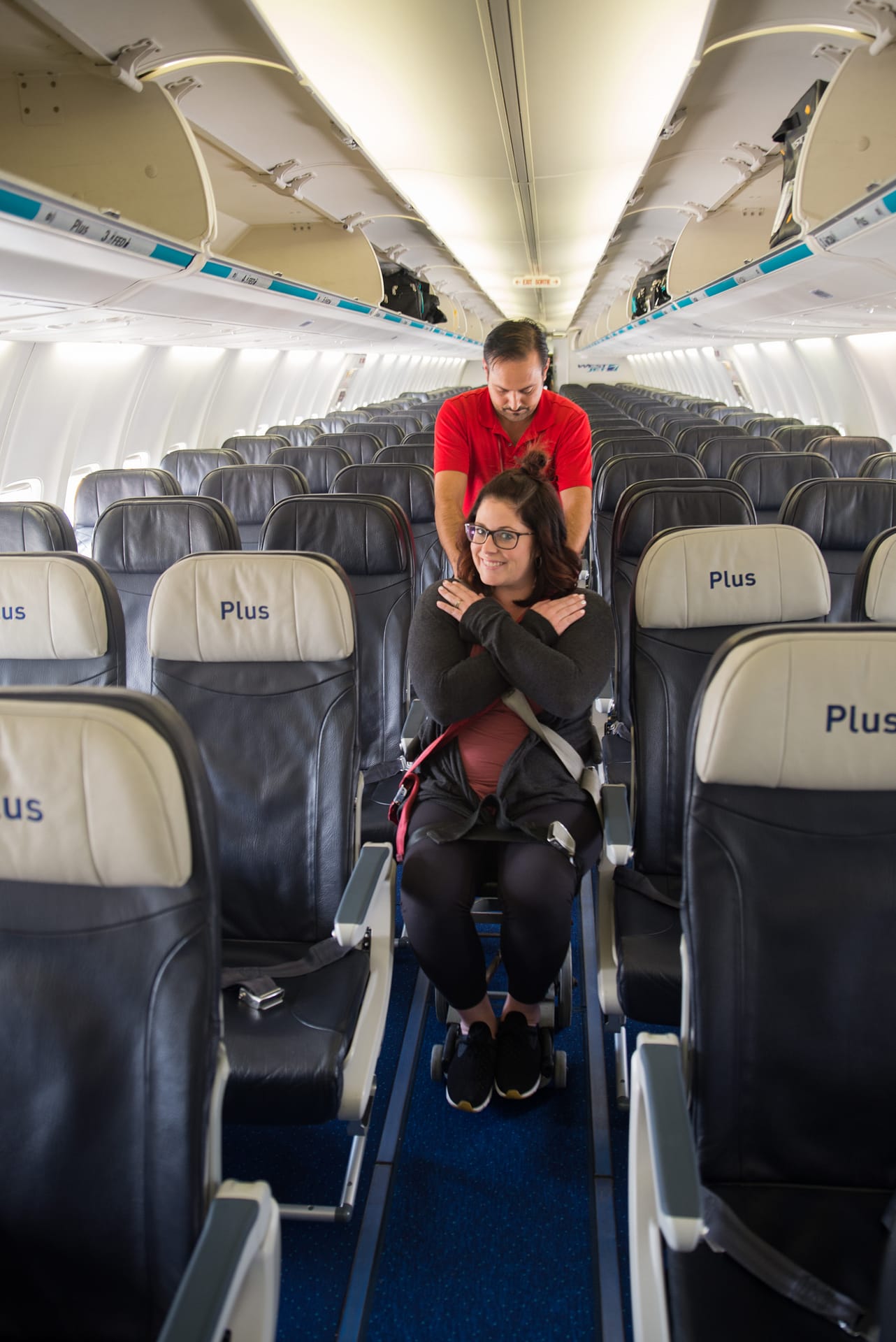 board the flight so getting out of my seat isn't an option. I believe that on longer flights the aisle chair is brought on board so the bathroom can be accessed but I'm not completely sure about that. I'm not quite ready for a long-haul flight yet!
We are the first onto the plane but we are also the last ones to unload. One perk of our delayed deplaning was that my kids got to check out the cockpit. I, of course, didn't get to watch because I was still waiting the long wait for the aisle chair. Either way, the kids had a fun experience and we all made it off the plane. I was happy to see my chair waiting for me right where it should be!
The Hotel
 We stayed at Tropicana Inn and Suites. We chose this hotel because of its close proximity to Disneyland. Like any other hotel, we requested a wheelchair accessible room. I called a couple of weeks in advance to confirm this and double check that we had a roll in shower with a shower bench. We always head to any hotel with a bit of skepticism because, as I said in the planning post, accessibility in each hotel is different. There is no standard.
We arrived in the afternoon and proceeded to the lobby to check-in. The first thing I noticed was that the desk was bar-height, aka way above my head. This always makes me feel a bit like a child but I just take a deep breath and smile and get over it. However I was pleasantly surprised when they said they had an accessible desk around the side. I headed in that direction only to see it was closed with shutters and covered in plants. It took thirty seconds or so to get it all cleared off just for me to sign something and then have them tell me that I couldn't use my credit card at this desk and had to go back to the too-tall desk in order to pay. So while having the accessible desk was a nice feature, it would have been better to have it open and ready to go, as well as make payment available there as well.
The hotel was recently renovated; it was clean and close to Disneyland. The room was easily accessed on the ground floor but was tiny! We had two queen beds and a pull-out sleeper chair. The beds were lower than most hotel beds but still too high for me to transfer to on my own. It was nice that the room fit our entire family as so many hotels only make room for a family of four. Accessible rooms for more than 4 people are even more rare. There was enough sleeping room but it left one small walkway at the end of the beds to the bathroom and one in-between the queen beds. My chair could get through and turn around if the room was empty but we had suitcases and clothing to store so, in the end, I could only turn around in the bathroom. I'm not sure a power chair would have been able to make it down the narrow walkway.
Our room did not come with a roll-in shower but a tub instead. They provided a shower chair which was old, unstable and unsafe (which, unfortunately, is common). I ended up just transferring to the bottom of the tub to shower which I whined about a little to my husband but if there is one thing you have to be when you travel, it is flexible. The rest of the bathroom was good! It had plenty of room for my chair, I could actually see my entire head in the mirror and I could reach the electrical outlets. Even so, I still found myself leaving the hotel one morning without doing my hair because we had to be at the park for opening at 7AM! (note there are no photos of me from this day). The sink was a bit high but that could just be because my torso is frustratingly short.
There was one major design flaw in the room: when the sleeper chair was open, it blocked the entrance to the bathroom. The entrance was still usable for those who could
walk, but seeing as I'm the one who has to get up early before everyone else to use the washroom, it caused a bit of a headache. Instead of me being able to quietly get out of bed and slip into the bathroom, my husband had to sleep on the chair so he could get up with me and move the bed. Now, if you have kids you know that those early hours can be tricky as they start to stir and can be much easier to wake than they are in the middle of the night. And when you are at Disneyland, every minute of sleep counts! So this extra shuffling around in the morning was annoying and interrupting. While it should definitely be remedied, it was not the end of the world.
There was a pool and hot tub as well. Both had lifts to transfer in and out but I didn't use them so I can't speak to their condition. I did use the pool and hot tub though. The pool was cold so I liked that I could sit on the top step without actually feeling the water but it still cooled me down. One of those "para-perks" I have talked about before. It was necessary to cool down (especially on those first couple of 40 degree days).
The Parks
I am a big Disney fan! I have spent many vacations there and we even visited for part of our honeymoon. Because Disneyland has been such a special place for me, I was determined to get back there after my injury and continue to find the enjoyment in it. Disney puts in a lot of effort to make their parks accessible to everyone and they offer a lot of things that I never knew existed – and probably never would have known existed – had I not been injured.
Until 2013, guests with disabilities were able to bypass lines in Disney parks. Unfortunately, the system was abused when able-bodied individuals started to pay people with disabilities to pretend they were in their party. And so the policy was changed. There is now a "Disability Access Pass" that can be attained, but they are on a case-by-case basis and can be hard to come by. You basically have to state your case to a guest services cast member (staff at Disney) once you are in the park (wasting precious park time). I didn't really understand the process when we went last year and, in the end, I was denied the pass anyways. This time around I didn't even bother because I can handle waiting in the lines as long as they are accessible (wide enough/no stairs). For me, the accommodations that count are in the accessibility of the rides themselves because it is the transfers that cause me the most difficulty. I don't want to be the person taking advantage of anything I don't need.
Getting Around
Both Disneyland and California Adventure are "wheel friendly" (think of all the strollers). I can get all around the parks unassisted – occasionally I go the wrong way and find myself up against stairs instead of a ramp but that would be my own poor sense of direction coming into play. I bring my SmartDrive power assist along but I only use it briefly on the more difficult hills – I used it maybe a dozen times.
When the crowds get busier in the afternoon and evening I can feel a bit stressed out trying to manoeuver my way through. I did express some of my frustrations about all of the mobility devices around the park in my last post so I won't get into that again but you can go back and read that if you're interested. One night we were heading down Main Street in Disneyland (on our way out). My daughter was strapped on to me and sobbing because she missed Emperor Zurg from the Buzz Lightyear ride. Now while I completely understand the stay-to-your-right system, it was so crowded that I didn't have the room to turn my chair and wheel over the trolley tracks that run down the middle. We headed straight into oncoming crowds but my daughter seemed to work as some sort of siren and the crowds just parted. The one time a toddler-tantrum was beneficial. Also it was pretty comical to hear her repeat, "I miss Zurg" over and over again.
Lineups
California Adventure was built with accessibility in mind; Disneyland was not. Disneyland has had to make more accommodations for what is not accessible – mainly the line-ups.
With the line-ups in California Adventure being accessible I can use the park just like anyone else. In Disneyland that's not the case. Because most of the line-ups are narrow and/or have stairs, I use the exits in order to access the rides. Whether or not we get right onto the ride depends on the size of the standby line-up. Because of the policy change, the idea is that someone with mobility issues goes to the exit and their ticket is then scanned with a return time equivalent to the standby line. This allows me to bypass the line but doesn't give me an advantage regarding wait time. What I've found is that if the standby line up is less than 30 min (and nobody else with a disability is waiting) they will just allow us to wait and usually get us on the ride in less than 10 minutes.
For both parks we utilized their Maxpass/Fastpass system. This particular trip I don't think we waited more than 20 minutes for anything. I highly recommend spending the extra money and doing the Maxpass; it was totally worth it!
The Rides
This is where accessibility gets a bit trickier. When we started planning our first trip to Disneyland after my injury I was under the impression that I may not be able to do many rides. I was not satisfied with that answer and so I began to research and talk to other people who had done it. Despite my research, we showed up unsure of how it was going to work but knew that it was possible! This time around we had a much better idea of what was in store for us.
There are three types of rides when it comes to wheelchair accessibility.
Rides where you can remain in your wheelchair
Rides where you must transfer but there is an assistive device or altered vehicle available
Rides where you must transfer but there is no assistance or vehicle modifications
I like to be out of my chair as much as possible but – I have to admit – the rides where you
can remain in your wheelchair are pretty great (especially after doing so much wheeling and transferring). The only two rides where I feel fairly obvious staying in my wheelchair is Jungle Cruise and It's a Small World. Essentially you are raised up higher than everyone and feel like you are on display. But I'd rather participate and feel obvious for a few minutes than wait for everyone to ride without me.
The other rides that offer you to stay in your wheelchair are all rides that appeal to younger kids:
Ariel
Toy Story
Monster's Inc.
Buzz Lightyear
Winnie the Pooh
All these rides have space for at least one person to ride with me.
Almost every other ride we did had either a "transfer access vehicle" or some sort of transfer assist. A transfer access vehicle is essentially one spot on the ride that can be altered to help with the transfer. Usually it is a door that opens up wider and/or an extra piece that comes out of the rides to make the bench longer and help bridge the gap between the wheelchair and the ride. If the vehicle doesn't actually change then they sometimes offer a device that aids in the transfer such as a sliding board fitted to the ride. Here are the rides we did that offered either the "transfer access vehicle" or an assistive device:
Luigi's Rollickin' Roadsters
Mater's Junkyard Jamboree
Alice in Wonderland
Dumbo
Peter Pan
Tea Cups
Big Thunder Mountain Railroad
Space Mountain
Splash Mountain
Star Tours
Pirates of the Caribbean
Even with the adaptations, some of the transfers were still difficult. I definitely make a bit of a spectacle of myself sometimes while I'm getting on and off the ride and I still need help for a lot of the transfers. But, for me, it's totally worth it. My biggest tip is to just take your time and think about your execution before it's your turn. I did come out of our holiday with a few bruises from less than graceful transfers and one moment where I almost fell backwards to the ground but, that's life.
And as for the rides that don't have any assistance, there aren't many. I was determined to do Radiator Springs Racers so we did, with a fair bit of muscle from me and my hubby. Soarin' Around the World is also one without assistance but the transfer was easy. The only ride I'm pretty bummed about not being able to do is Indiana Jones. It was always one of my favourites but the opening into the jeep is too narrow for me to get into. Hopefully they will fix that at some point.
The Magic
There are moments as a parent that feel very "full circle". Watching Fantasmic on our last night in Disneyland was one of those moments. It was a show I saw numerous times as a child and now I was watching it with two of my own kids on my lap and one just behind me with my husband. It felt like a moment worth documenting – not in an "everyone look at the camera and smile" sort of way but in a "lock this in your memory and never forget it" sort of way. Every so often I experience these moments with my kids where I can say to myself "hey, you're still here for this. You didn't miss it and it isn't much different than you imagined". Those moments are truly special.  And it was the best way for us to end our vacation.
Life is stressful and with this injury I find my stress becomes apparent much quicker than it used to. Before this vacation my husband and I were both feeling like we were at the end of our respective ropes. Dealing with three children, marriage, and life can be a challenge at the best of times and this spinal cord injury has only added to that. Being able to get away to somewhere we all enjoy, even though it is busy and chaotic, is still somehow a way to recharge. It takes more planning, more packing and more patience, but – in the end – is always worth it.