I'm holding a grudge against Easter and I'm trying to decide if it is justified or dramatic. Spoiler alert: writing this helped me figure it out. Everyone always says that the firsts will be hard when dealing with grief – especially holidays and traditions. And that first year was definitely quite brutal. Every holiday, birthday and season brought about change in how I could partake in the celebrations and events that have always been highlights in my year. But Easter was significant. Easter came just a couple of weeks after my accident and 'different' doesn't really even begin to describe how that first holiday post-injury went down. And even though this last Sunday was the third Easter since my accident I still had a really hard time planning and preparing for it. I still struggle to find the holiday spirit that, in the past, came so easily.
I grew up in a family that was big on celebrations. Any excuse to get together was capitalized upon. And while each celebration encompassed a strong sense of family and love, my mom also always made sure that many of them came with surprises and a lot of fun. These celebrations instilled in me a love of tradition and a determination to give my kids a similar experience. But when you find yourself confined to the ICU two weeks before Easter, those plans can go a little bit sideways.
Easter brings up a lot of memories from the early days of my injury. I moved to rehab on the Wednesday before Easter weekend and wasn't in any sort of shape to be venturing out on a day pass. In true mom fashion, I felt guilty that I wasn't going to be able to get Easter ready for my kids. In true selfish fashion, I felt jealous that my in-laws and husband would be there to experience Easter morning with my children and I would wake up alone at rehab. (A long weekend at rehab is essentially a ghost town which certainly didn't help.) I insisted my husband go stay the Saturday night with the kids which also meant I spent my first – and only – night completely alone and, quite frankly, terrified. After an alarm went off in the middle of the night I didn't get much sleep. The thought of having to wait for nurses to transfer everyone out of bed in the case of an emergency was enough to keep me awake until morning.
While the overnight hours may have dragged on, the morning felt like an eternity as, without my husband there, I had very little distraction. I kept picturing my three littles waking up with that familiar excitement and wonder as they anxiously waited to see if the Easter bunny came to visit them. I imagined them hunting around the house for hidden eggs and working their best negotiating skills to eat as many of them as possible. I wondered what my daughter's reaction would be to it all this year as she would understand so much more than the year before. And the realization hit me that all I would have from that particular Easter morning was a few photos and what I had let myself imagine. It was the first time I remember feeling obviously left out of something because of my injury and I was devastated. On one hand, I was thankful for the people who would facilitate Easter so our kids didn't miss it. But on the other hand, I felt insignificant in my own role knowing that these things could still go on without me.
Ian and the kids came to rehab soon after they finished breakfast. They were a little dishevelled but were dressed in outfits I had bought before my accident. I appreciated the attempt but simultaneously felt ugly and plain and only wished I had something bright and spring-like to wear too. Then I wondered if I would ever wear cute clothes again.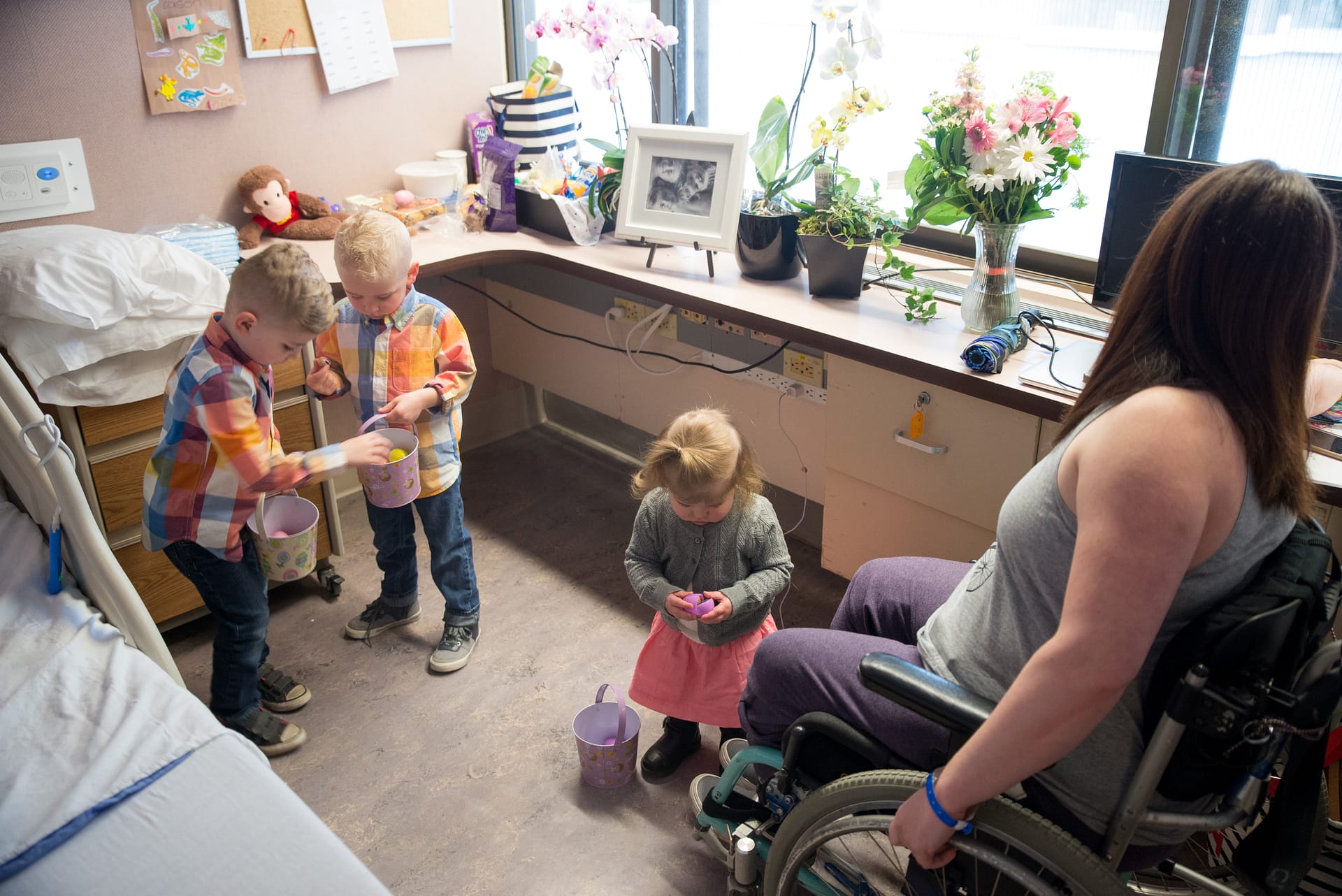 I so badly wanted to have a surprise for my children when they came so Ian had gone out a few days earlier to pick up some chocolate and little games. We hid them around my room so they could do a little mini hunt. I hated every minute of it. It felt wrong and awkward and it was all I could do to hold myself together and smile anyway. I imagined I couldn't feel much worse. Then more of our family showed up and proved to me that I could.
I tried to enjoy lunch and family but I felt so obviously different. I couldn't get onto the blanket on the floor where the kids and some adults played a game. I couldn't serve up my own food let alone help my children. We ventured to the gym where everyone ran around and played basketball while I mostly watched. I watched everyone else smile and laugh and engage with my children in ways I wasn't sure I would ever be able to do again. I knew that everyone came that day to include me and show me that I wasn't forgotten. They came to bring some normalcy to an Easter that was as far off from normal as I could have imagined. I wanted to be thankful, but I mostly just wanted everyone to disappear because, on that day, I believed that this would never ever feel normal.
Now I guess that brings me back to this Easter. As it approached, I struggled to prepare for it and I definitely procrastinated. I felt guilty. It was as though I was letting myself down for not being excited because the person I was before a spinal cord injury was always excited for holidays. I felt sad thinking about that Easter in 2016 and I spent time looking at photos from the morning I missed, as well as the little celebration we had together that afternoon. As I looked through them, I realized that I've never worked through my feelings of losing that day. Instead I let them overshadow the holiday for the last two years. And I think two years is quite enough.
This last Sunday I had so much of what I missed on that Easter two years ago. But I've been letting the fact that it stills feels different to get in the way of seeing that. I had the chance to plan and prepare. I got to see my children's sweet faces in the morning and I watched them hunt for eggs around the house and say yes when they asked to eat another one. I wore something bright and spring-like and didn't feel ugly and plain. I enjoyed all of the time with my family. I was engaged with my children as we threw the baseball, built puzzles and made beaded bracelets. It may still sting to watch my children participate in activities with other people that I can no longer be a part of, but it's certainly easier than it was 2 years ago. And as I put my children to bed on Sunday night I was exhausted and my entire body hurt from being in my chair all day, but I was happy. My kids all said they had such a fun day and, in the end, that's all I ever wanted.
I will never get Easter 2016 back. The Easter where my children were 19 months, 4 and 6 years old. The Easter that should have been the first one in our new home and shouldn't have included a wheelchair or a rehab facility. But along with everything else, it is part of our story. It is another way to remember how far we have come and how you shouldn't gauge what a lifetime will look like based on a beginning. In writing this I have realized that my feelings were justified because that was a really difficult Easter. However, I've also realized that it is not like that anymore. We have grown and moved on in so many ways. It's time to put that memory in its place and be thankful that what I thought would never ever feel normal feels more like me every day. It was just that one Easter at rehab. Just one.