Do you have a favourite place? Somewhere that holds a special place in your heart? A place you return to knowing it will look the same and feel the same every time you go there as though it stays frozen in time during your absence? The first time I came here, I was sixteen years old. It quickly became one of my favourite places.
It was the first summer Ian and I were dating and Ian's parents reluctantly let me tag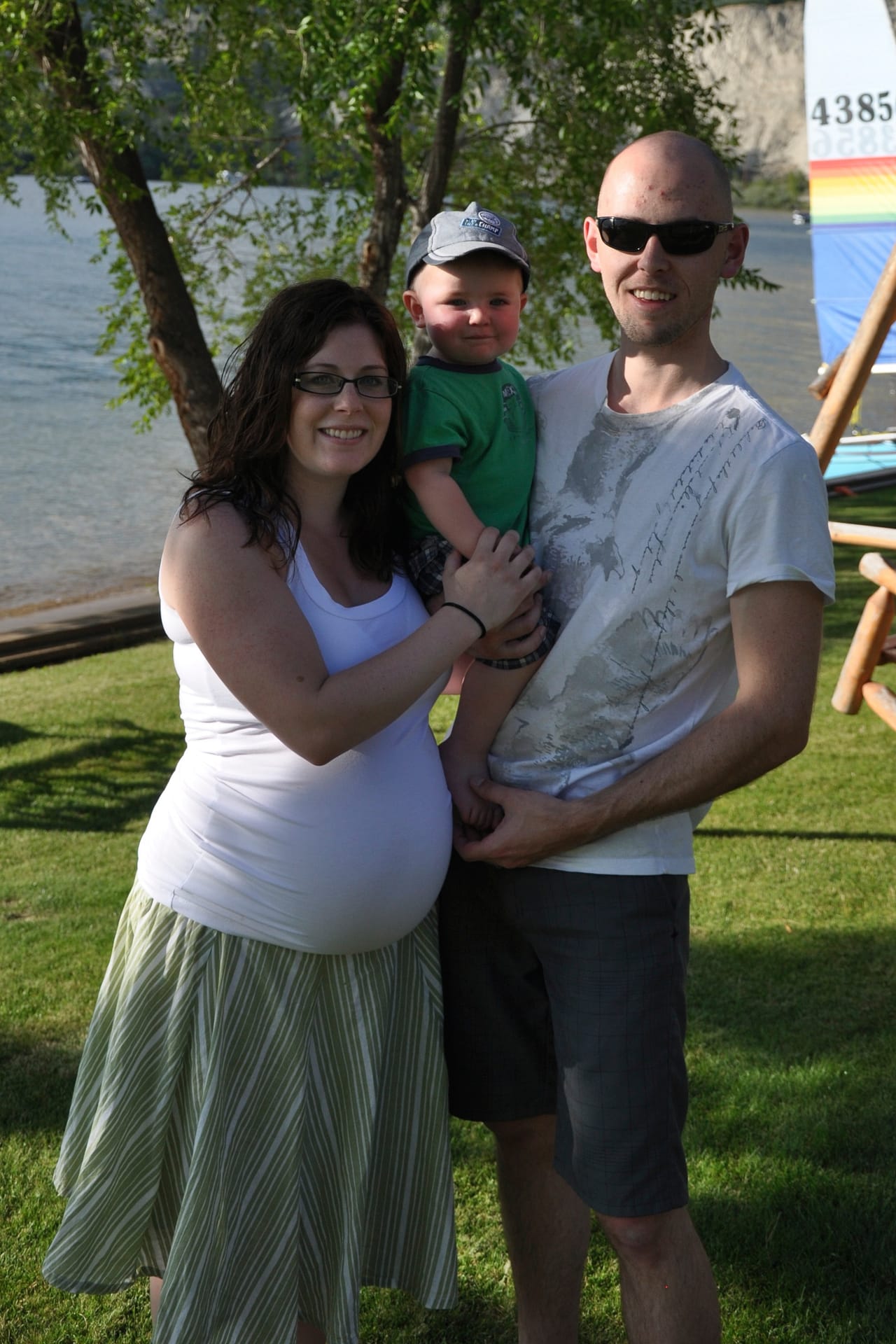 along for a week of their annual getaway. Since then, I've seen it at many different stages of life. We came as newlyweds, pregnant, with one child, two children and the last time we were here was our first summer as a family of five – it was the last summer before my injury. I've seen it through many lenses and experienced it as many different versions of myself. We have only missed one year since we were teenagers – even if we only made it up for a few days sometimes. But we hadn't been back since my accident. It had been three years.
When I had my spinal cord injury there was a big part of me that wished I could have a fresh start. I didn't want to return to my life and live it in a different way – I just wanted a new life. You've felt like that before, right? I thought about up and disappearing with my family to start over in the woods somewhere but I soon realized a wheelchair in the woods isn't super practical and, well, I don't even enjoy camping. With that off the table, I had two choices: stay in rehab forever or rejoin the land of the living. The choice was obvious and, very quickly, my current and former lives began to intertwine.
I returned to so many places, but I wasn't sure I would ever come back here. This place is not only full of memories but hours of daydreams about future summer trips to the lake. Memories of making out behind the cabin (no wonder his parents didn't want me coming), jumping off docks, floating in the lake and swimming with my kids. Daydreams resembling more of the same (except for making out behind the cabin – that one can stay safely in my youth). I wasn't prepared to come back to all of this as I am now: changed. I didn't want to see those daydreams tainted by a new reality. I wanted to leave this place to my memory and forget all I had imagined it becoming for our family. It was somewhere that made me so happy and I was unsure if it still would – if I could still let it.
But after two years of saying I couldn't go – and a few glasses of wine to help lower my inhibitions – I decided it was time. I allowed myself to remember that while I love this amazing place, it was never perfect. My daydreams may never have included a spinal cord injury and the complications that brings to a vacation at the lake, but they also never included family drama, morning sickness, false labour, children throwing tantrums and having time-outs in the cabin or any other scenario that would tarnish my idyllic expectations of a perfect summer vacation. And yet, those were all part of the reality of vacations past. The trick is allowing yourself to savour the magic of the daydream but find happiness in the experience as it happens, however it happens.
With that in mind, we headed back to the lake. I was so worried it would feel foreign, as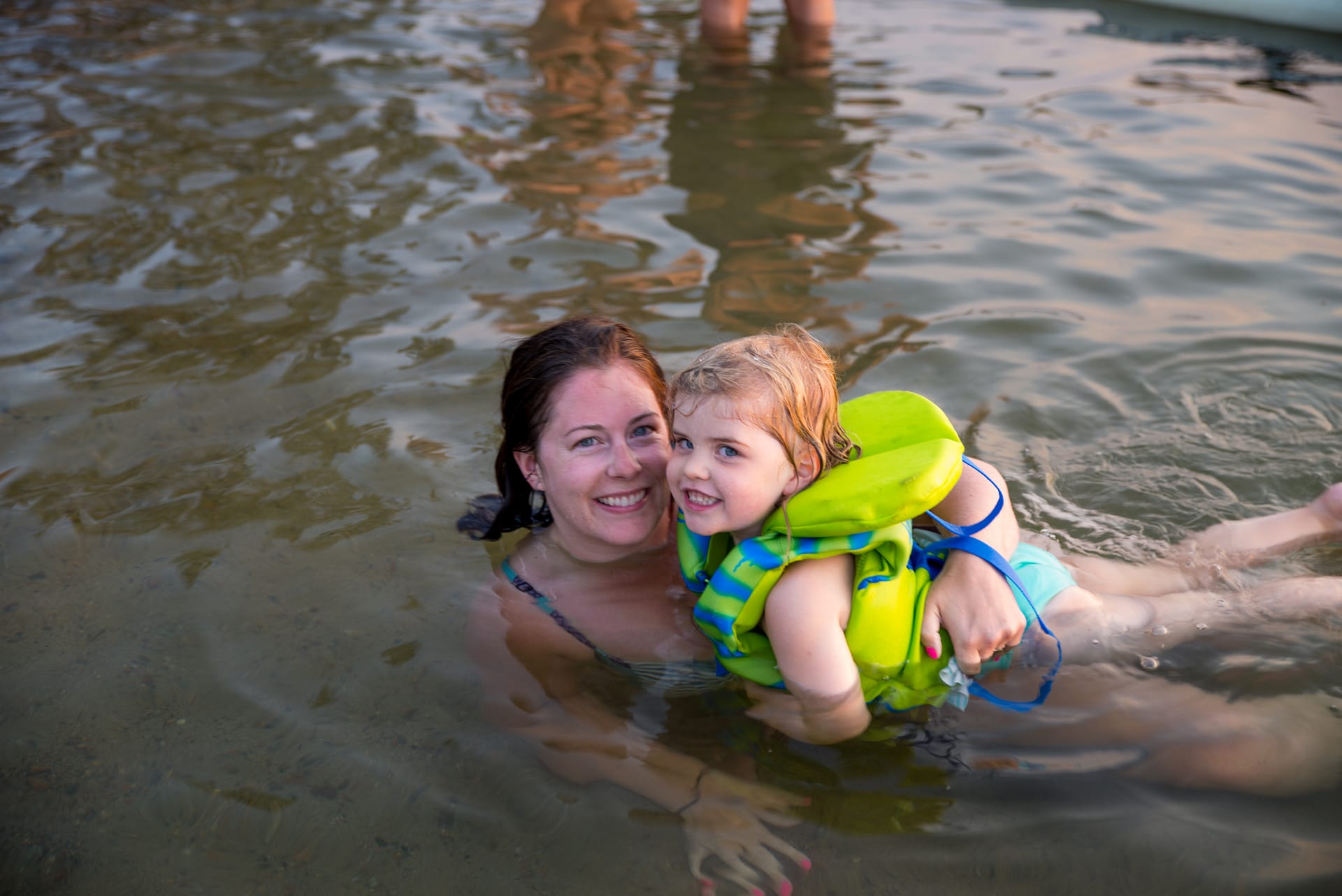 though it would have changed as much as I have. Yet, it was there, just as I had hoped – still frozen in time; still waiting for us. And for the three days we were there, we had an amazingly imperfect time. I discovered my baby girl adores the lake as much as I do (finally one of my children does) and I was reminded of one very important lesson: when people love you, they make shit happen!
And make shit happen, they did. From piggy backs to supervising children so I could have a little extra help to moving umbrellas because I was cold in the shade, people made it happen. Seriously, my life would be so incredibly different without the love and help from all of the people who care about us and want to see us happy. This place is Ian's family's summer spot so we were far from on our own. I may not have jumped off of any docks, but, because of so many wonderful people (especially my husband) I floated in the lake, swam with my children, lay in the sun and finally stopped wondering what it would be like to come back.
Of course, I also fumbled my way around an inaccessible bathroom, exhausted my arms wheeling back and forth over the grass, felt the familiar sting of disability every now and again and dealt with exhausted kids every night who, in the words of my daughter were "120 degrees tired". It wasn't the idyllic daydream. It was messy, exhausting and real, and I can't wait to come back and do it again.