A major aspect of wheelchair living is accessibility. After my accident, I began looking at the world (my world) through vastly different eyes than before. Places that I often went – restaurants, movie theatres, parks, beaches, schools, other people's homes etc. quickly became more of a challenge. Stairs seem like the most obvious obstacle, but there are issues with bathrooms, door openings and steep inclines (to name a few). Venturing out into the world all of a sudden got much more complicated. So when it came to our own home, we wanted to make it as comfortable and accessible as we could so that my time could be used efficiently.
We were fortunate that our house was already mostly one level (rancher with a partial basement). We had moved in only seven months before I was injured and were planning an addition for my parents but were not going to renovate our side of the house. My accident took place at our home during the process of putting on the addition and when I fell through that hole, our plans for not renovating fell out the window.
After only a couple of days in the hospital, we were sketching out the changes we could make to our home; a home that we had dreamt of for years and finally lived in. A home that I left by ambulance on March 10 and would never see again in the same way. It was an older house and certainly not perfect, but we loved it. However now, parts of it simply wouldn't work all that well.
Our master bedroom just barely fit our bed and dresser with enough room to walk around the bed; rolling around the bed would not be a viable option (hell I don't even think I could have gotten in the door). Our master bathroom was essentially a closet and our closet was essentially a cupboard. Half of our long rancher style hallway had been narrowed at some point over the years and was, again, barely wide enough to walk through let alone roll. There were small doorways, high counters and the only access to the house from the outside was by staircase. Then of course there were the stairs to the basement which, at first, seemed to be a lost cause – I thought I would never see our basement again. Thankfully, we came up with a plan to make it all work.
We were able to gut a lot of our house and make changes that benefit my life every day. The changes we made allow me to move freely and safely around our home, take care of our children and, for the most part, have confidence in my independence. I'm incredibly thankful to have an accessible home and I'm excited to share some of the features that differ from a typical home but make my life so much easier. The biggest changes were in the kitchen, the master bedroom and the master bathroom but all of the modifications have made a difference.
 Kitchen
I am not a cook. If you come to our home for a meal it is a guarantee that the woman of the house only made the dessert – I do love to bake. This is not a new development in our life but the way we have lived since we were married. However, while it is very rare that I make dinner (and when I do it is usually grilled cheese or macaroni with raw veggies) I do prepare breakfast, lunch and snacks. And of course, I also bake.
When we first started renovating, we had decided to leave the kitchen as it was. However it didn't take long for us to reconsider. Shortly after the renos began, we decided to visit and check out what was happening. While we were there, we ventured into the kitchen and quickly realized that the standard height counters, out of reach microwave, too high stove and sink I couldn't see inside of and could barely turn on were not conducive to a smooth-running household. We started to plan.
We took one wall and made that the accessible side. The countertop was lowered to my height specifications and is actually lower than a lot of people would make their accessible counter because I'm even shorter than most wheelchair users (you would think that sitting would even out the height factor but apparently it does not – once a shorty always a shorty). The upper cabinets were also lowered so I could use them to some extent. We put the cooktop on the lowered counter as it is safer for me and just as easy for my husband to utilize. The accessible side is almost all open underneath so that I can get close to the counter for cooking, cutting or other food preparation. The last piece of the puzzle on my accessible kitchen wall is a small bar sink. My lucky husband gets all of the big dishes up at his normal sized sink – he can walk so he gets the dishes and I think it's a fair trade off (I play this card a fair bit when it comes to chores and I think he's catching on. I'm afraid there may be dishes over at my sink after he reads this).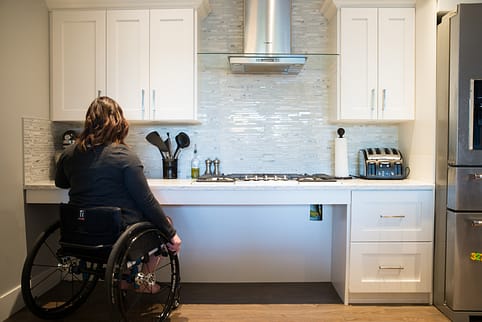 We moved the microwave down below the island so I can use it without a problem and replaced our single oven that was under the stove with double wall ovens (only one of which is within my reach). We decided to get two ovens because we have big families and knew we would probably do more entertaining at our house because being home is so much easier for me. The ovens open sideways like a microwave which makes it much easier and safer for me to use. I have to be very cautious when I have the oven open that my legs do not touch the inside of the door or the racks – no feeling means the only hint that something is burning is the smell of seared flesh and nobody likes the smell of seared flesh.
As for kitchen storage, we put everything that I need access to often down low and use the higher storage for things that I wouldn't need on a daily basis. In the past, we would get after our kids for climbing on the counters but now it is encouraged when Mommy needs help to get something down (all done safely of course). But for the most part I can use the kitchen independently with help from my cart on wheels that helps me to transport things from one place to another.
Master Bedroom
The master bedroom in our home before this one was very large. We always thought it was silly to have such a big master bedroom and that the square footage could have been better used elsewhere. It didn't bother us at all when we found our quaint little rancher with the tiny master bedroom. We much preferred to have the extra space in the kitchen and bigger rooms for the kids. It still fit our king-sized bed (although barely) which was necessary as we still had/still have at least one child in between us every night. We never thought the size of the room would be an issue. Seems as though we were mistaken.
We ended up pushing our bedroom out about 8 feet in order to accommodate a new bathroom, a new closet and extra space to get around the bed. My brother in law made us a new headboard and bedframe to my height specifications in order to make my transfers easier. Our closet is now a walk-in closet where all of my clothes can be at my level. But it's our bathroom that makes me the happiest.
Master Bathroom
I have yet to meet another wheelchair user who thinks that bathroom design and layout is not imperative to happiness. Okay that might be a bit dramatic, but every wheelchair user I have met agrees that a good bathroom design can make their life a lot easier. Whenever we have stayed away from home since my injury, I am always happy to come back to my bathroom that is made for me.
Our original master bathroom was a big problem. Even the smallest wheelchair wouldn't have cleared the narrow door and I'm pretty sure I wouldn't have been able to close the shower door when I was 9 months pregnant let alone try to get a shower chair inside of it. There was zero way to make that bathroom work.
So we overhauled. As I mentioned before, we were able to push the house out about 8 feet which allowed us to build our bathroom. We also took up part of the laundry room in order to make it work. Not only did we need to fit in the necessary components, there had to be room to get my chair around the bathroom as well.
The shower has a long bench for myself with a custom cushion to protect my skin from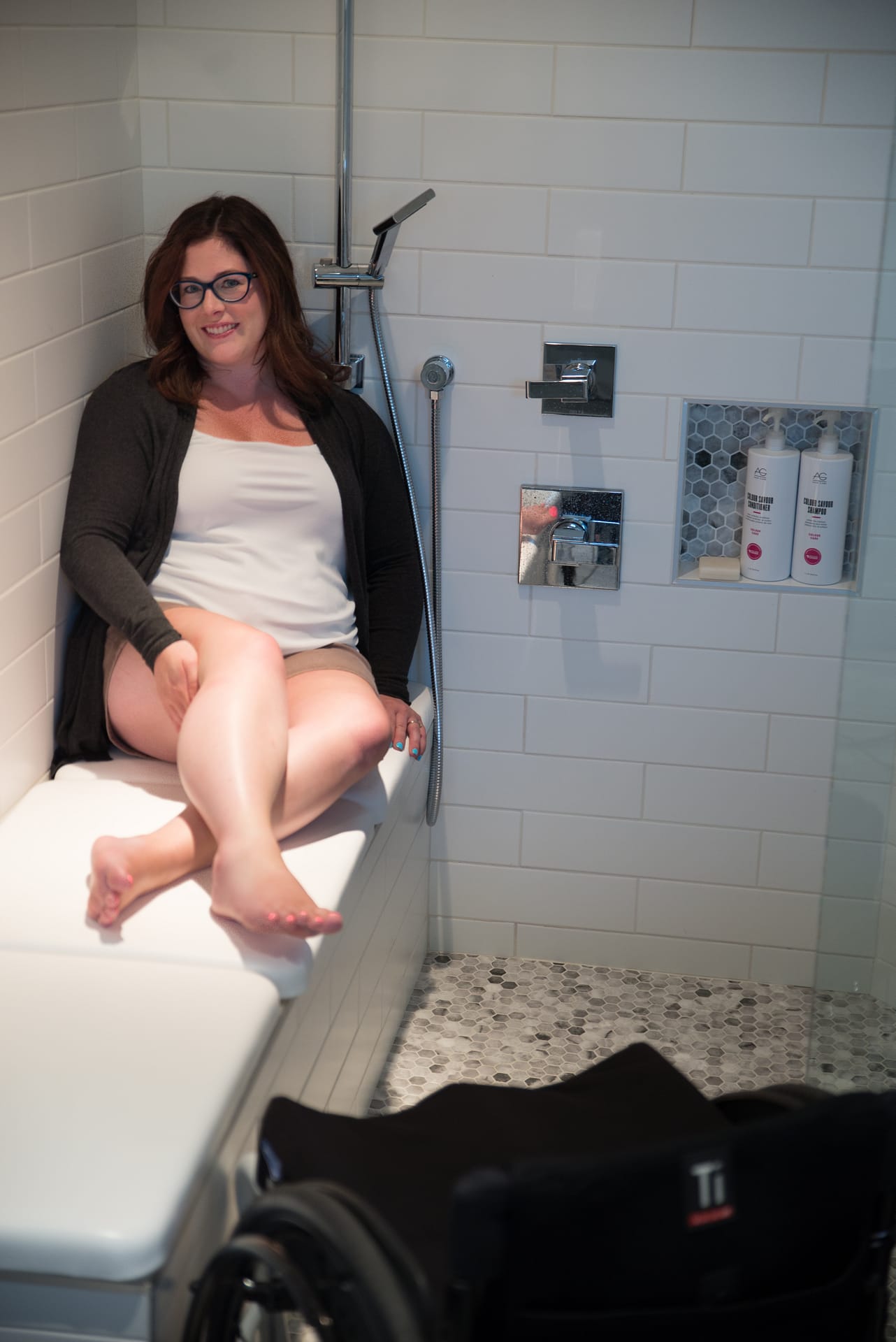 the hard tile. My shower head slides up and down on a bar and also detaches – when you can't move your body around the shower, you move the shower around your body. We have a second standard shower head for my husband to use. There is also no bump on the floor between the bathroom and the shower that I have to maneuver around.
There is a little half wall beside the toilet that has a grab bar. I use a raised toilet seat that has padding to protect my skin. Certainly not everyone uses a raised toilet seat but I still find it easier at this point. I also have another cart that I keep beside the toilet with all of the bathroom supplies I need.
We have two sinks – his and hers. Like in the kitchen, part of the counter is lower down and open underneath. We chose sinks that come to the edge of the counter to avoid extra space between me and the sink – excess counters really get in the way when I'm brushing my teeth or washing my face. The mirrors are also lower so I can actually see myself in them and there are electrical outlets within my reach. I have yet to go to an 'accessible' hotel room and be able to fully see myself in the bathroom mirror or plug in my hair tools on my own. I've even been to one place where my chair didn't fit into the bathroom at all and I had to transfer to a computer chair to go in and out. So, again, my bathroom makes me pretty happy!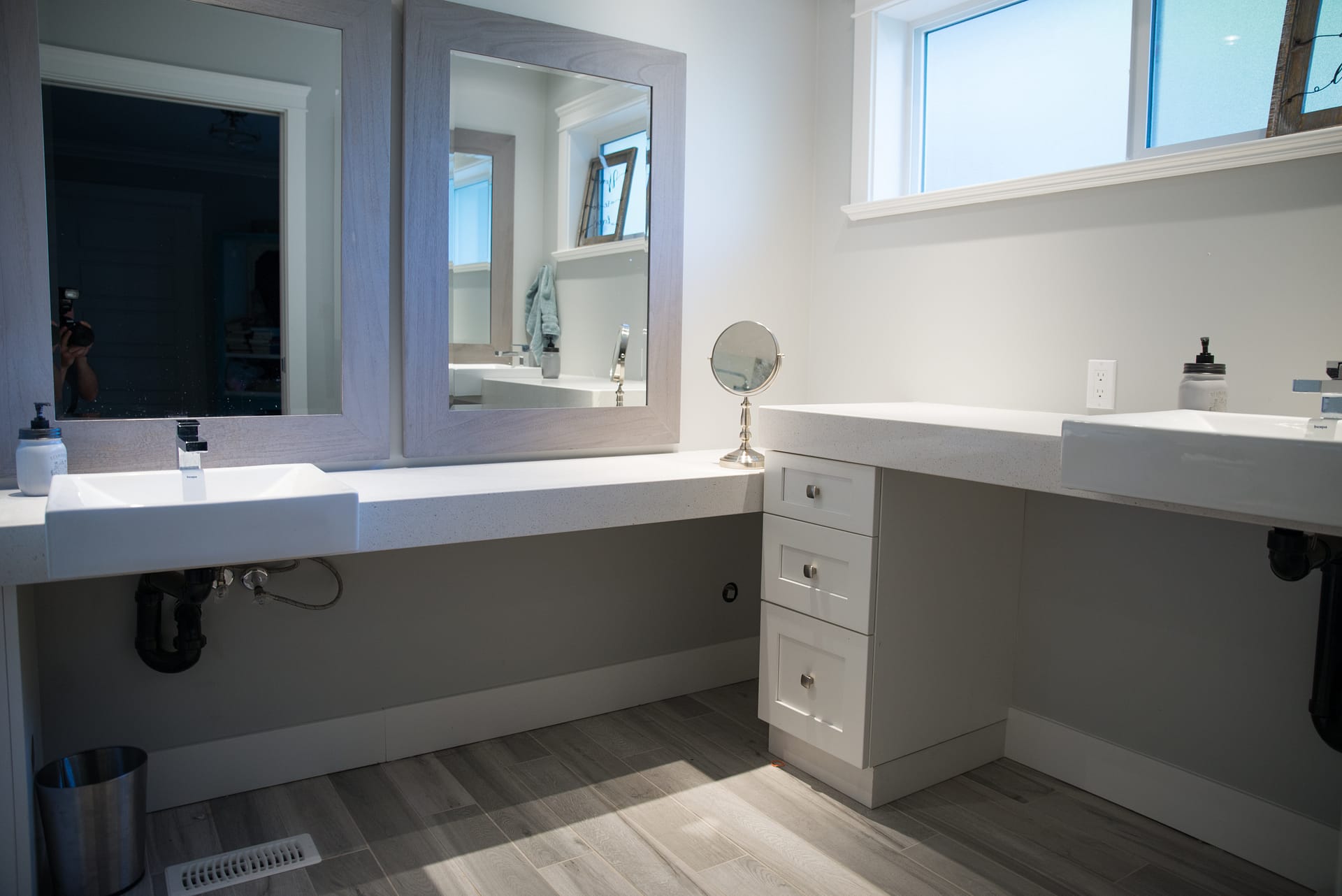 The Rest
All the things above were definitely the most noticeable changes inside our home. But there were other modifications that have further increased my ability to get around. The hallway was widened where it had been previously narrowed. All of the doors were widened to provide ample room for my chair. We were able to take what was the closet in our master bedroom and frame it in as part of the main bathroom so that I could get in and turn around in the bathroom – this allows me to help my children in there when I am needed. The last modification inside was the stair lift.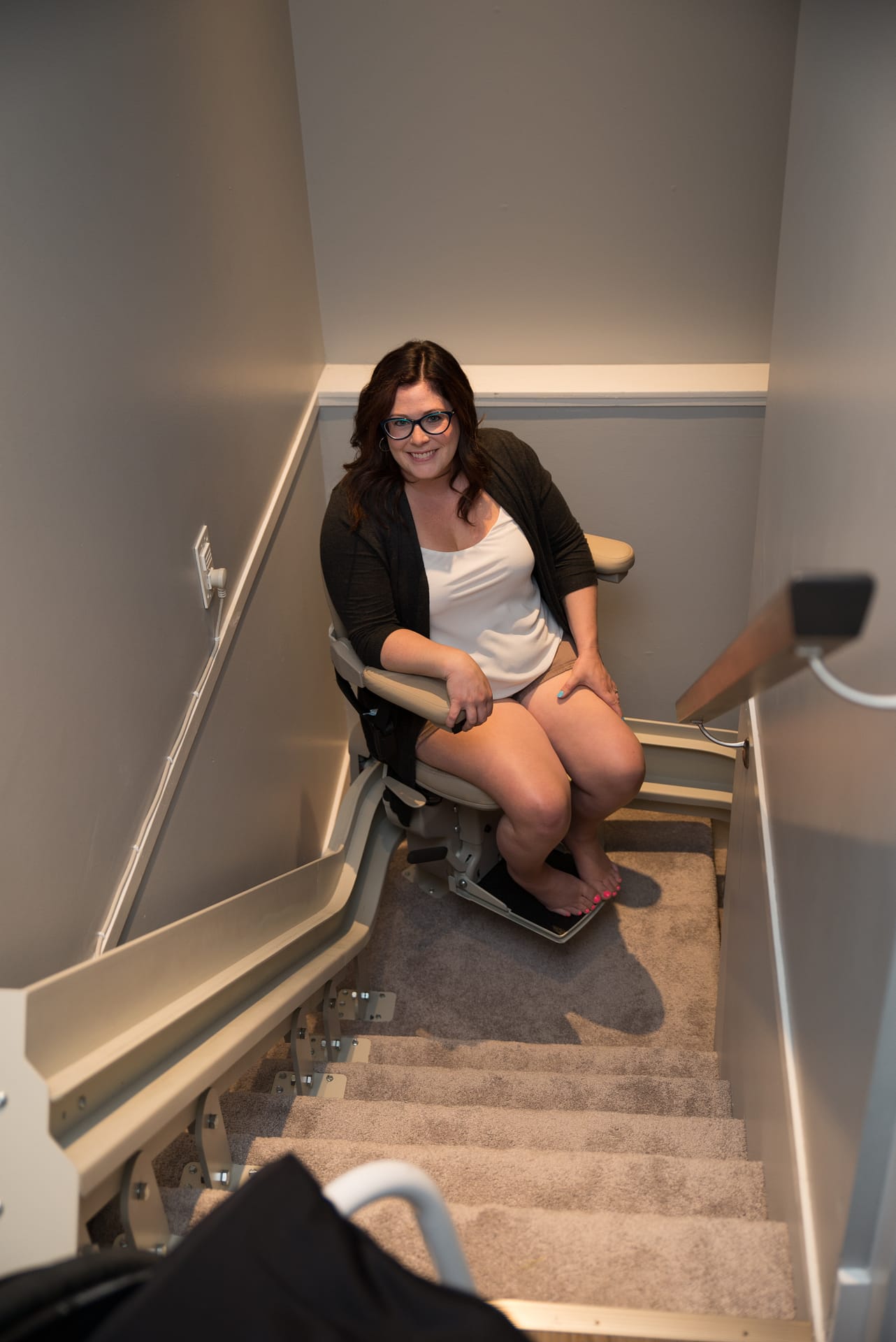 We realized that I still needed to be able to get to the basement while we have children who could possibly need something down there. The stair lift is incredibly slow and makes me feel a bit like an old lady, but it serves a purpose and allows me to access my entire home and so I am thankful for it. My kids also think it is super fun to ride on it with me. At this point, my husband carries my chair up and down the stairs for me but the plan is to get an inexpensive second wheelchair for the basement so I won't have to rely on him being home in order to use it.
Outside
What good would it be to independently get around my home if I cannot actually get into it on my own? Every entrance to our home is up at least two steps. We have installed three ramps in order to give me multiple access points. It's partly a safety feature – in case of an emergency we wanted to have more than one option for me to be able to get out of the house (especially if I were on my own or on my own with the children). I have two ramps off the back of the house and one in the garage. My children like to ride their bikes up and down the ones in the backyard – multipurpose ramps.
I love our backyard. We are lucky to have a lot of greenspace but grass is not the fastest medium to wheel on and when you're trying to keep up with three littles, slow is not usually an option. We put a packed gravel path down the length of our yard in order for me to travel faster. I still venture out onto grass but the path helps tremendously when I'm trying to get around.
The final accessible feature in our yard would be the play structure we have for the kids. The standard base of pea gravel or bark mulch is not wheelchair friendly and with my youngest being only 2, I needed to be able to get around the play structure. We put down rubber playground tile flooring which makes wheeling around simple. It's wonderful to still be able to push my kids on the swings and know that if someone were to fall or need me that I could get to them.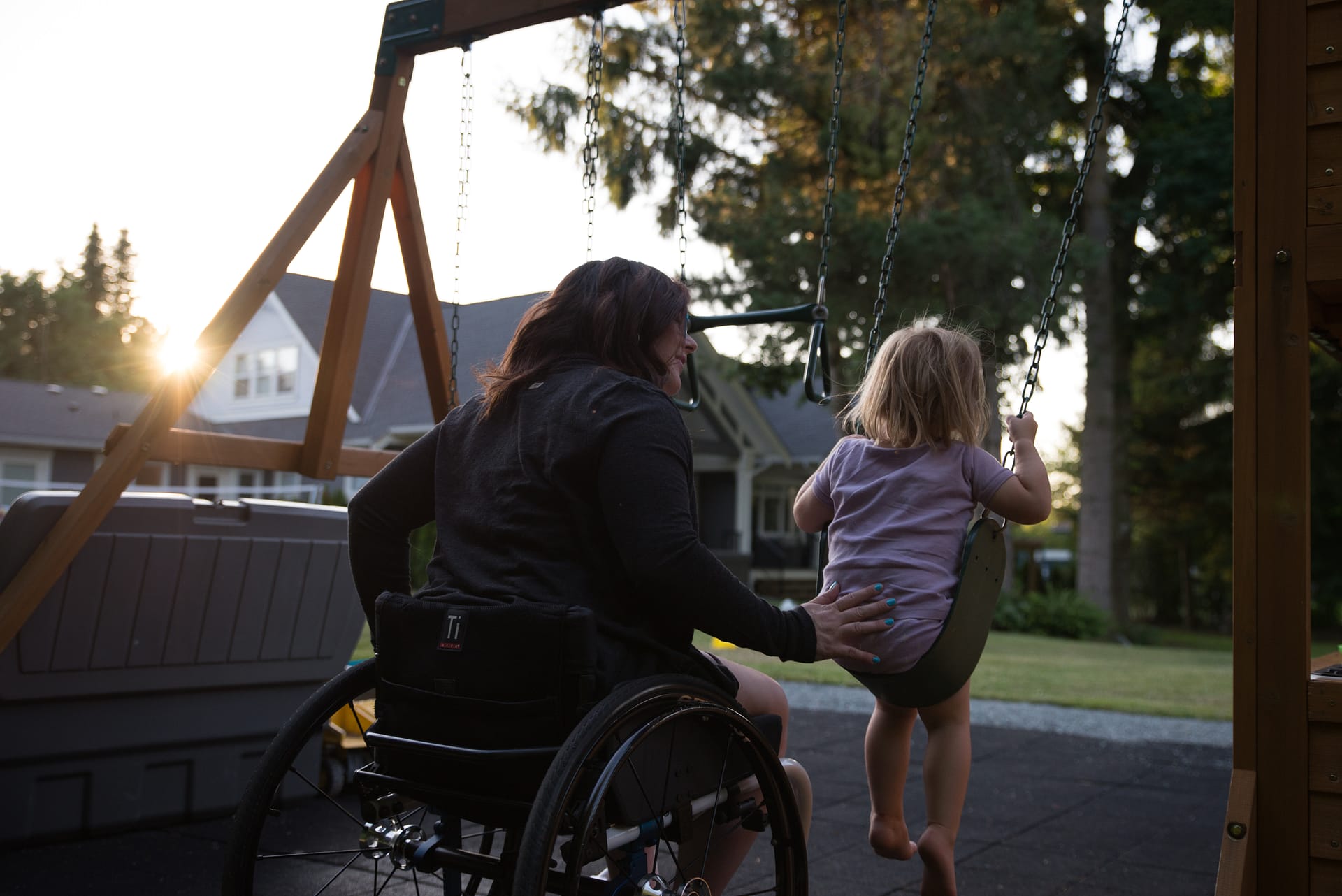 Being confident and comfortable in our home has made a big difference to me in my recovery. Not everyone makes modifications to their home but it has given me a sense of normalcy that I needed. When I venture to other homes I really see how the changes we have made benefit our life every day. So many of our family and friends have had tape measures out in the last year to see how big their doorways are or how much space their bathrooms have. Ramps have been purchased and made from scratch. I've had people apologize to me because they have stairs or difficult terrain in their yards. And while we still spend time in other homes, we are lucky to have family and friends that are continually willing to bring parties to our house so that I can be more comfortable and, in turn, more like myself.
Universal accessibility is the ultimate goal but the world is still pretty far off. I'm confident that there will be improvements as the years go on but I am also pretty sure that the accessibility battle will continue to be fought past my lifetime. I certainly don't have the ability to change the entire world, but I was able to make my corner of the world work for me and my wheelchair. But being comfortable at home doesn't mean I won't try and spread awareness. The more people and the more businesses that understand how beneficial a few modifications can be will ultimately lead to the most effective change. And while this is never a battle I thought I would be fighting, I seem to be raising three tiny accessibility advocates in the process of it all which, in the end, is pretty awesome.