It was three years ago, on March 10, 2016—in this very spot—I became a paraplegic. Today, it looks nothing like it did on the day of my injury; there is zero indication that this was a place of a life-altering accident. The dirt has been replaced with carpet. Drywall and paint covers the exposed cement foundation and the staircase fills in the dark emptiness of a basement-in-the-making. But one thing remains—framed in with wooden trim—and that is the hole I fell through.
In March 2016, our home was in a liveable state of construction. We were in the midst of building an addition that my parents would move into—a plan over a year in the making. One afternoon we went to inspect the progress and it changed my life forever. I was in the air for only a moment—falling 10 feet doesn't take long—when I hit the ground with a force I still don't have words to describe. And for the next 20/30/40 minutes—I don't even know—this is where I lay, staring up through the rectangular opening. 
Until recently, I never thought I would go back down there. Living only a hundred feet or so from the scene of the most devastating event of my life was enough for me. The staircase itself is behind a door which means every look I've taken is intentional. But seeing it from above and seeing it from below offer vastly different perspectives. From above, you are a rescuer—from below, you need rescued. And after three years, I knew I needed to change my view.
I needed to sit here. I needed to re-establish the setting of this place in my mind and reconcile what was and what is. I needed to feel the carpet and the finished wall. I needed to look up through the opening above me and see something other than my husband, my daughter, the paramedics and the firefighters staring back at me. I needed to experience this place in silence to help soften the memories of my children crying, Ian's conversation with 911 and the sirens screaming closer and closer. I needed to be here—and to leave here—by choice, not by accident. 
The first time I attempted this, it triggered tears and anger. This second time, my emotions were calm. And as I sat here, my thoughts took me by surprise. I was thankful. Not for the accident, but for the woman who lay here broken and afraid, but still full of hope. And then it dawned on me, I'm always putting my thanks on her—some abstract being who I can't ever seem to take credit for. What I really needed to do, was reconcile these pieces of myself. 
I am the woman who lay here, newly paralyzed, feeling hopeful, thankful and relieved to be alive. I am the woman who put in all the work to get through rehab and life ever since. I am the woman who has fought through grief and anger as well as the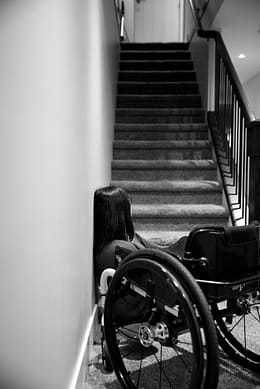 frustrations of paralysis without quitting. I am the woman who keeps living a life that feels real and fulfilling. Both women, the one who lay here newly paralyzed and the one sitting here in this photo, are the same. We are the same. I did all this. And maybe I sound boastful but today, I am proud of myself.
I have worked really damn hard—both emotionaly and physically—to have clarity and control over my accident and injury. It's taken a lot of anger, sadness, frustration and patience. It's taken tears, laughter and endless amounts of love and support. The road has indeed been—and will continue to be—treacherous. And yet, here I am. I'm confident, proud, happy and paralyzed. I am not thankful for my injury, but I am thankful for the woman I became in its wake. And I am thankful I came back to this place in order to reconcile these pieces of my story. Because while it may be the same woman and the same space, both are difficult to recognize three years later. 
She found herself
Over a long
And treacherous road
And the more
Treacherous
The road became,
The more of
Herself
She found
-Atticus