My 12-week transformation challenge is complete and I know what you're thinking: She's not skinny yet. I get it. You hear transformation challenge and expect a huge reveal Biggest Loser style. But as I said in my very first post, the main focus of this challenge with True North Strength and Fitness and Westcoast Nutrition wasn't on the reflection in the mirror. This wasn't about finding a quick-fix to achieve dramatic results in a short of amount of time in order to garner attention based on unbelievable before-and-after photos. This was about making a start. 
It was about setting realistic goals and reaching them at my own mom-of-three-paralyzed-still-want-a-social-life pace. It was about finding what worked for me in order to make healthy and sustainable changes in regards to my diet and my attitude towards exercise. It was about learning how to fuel and strengthen my body while also being accountable for how I choose to take care of it. Yes, it was about so much more than the mirror.
Now don't get me wrong, I'm thrilled with the way my body has changed so far. I've lost 5 inches around my body from the waist up and 10lbs. But that was only possible because I made changes I had spent years convincing myself I was incapable of.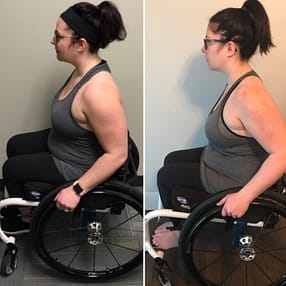 Thanks to Michelle, I have a better understanding of nutrition and my own rocky relationship with food and alcohol as well as solutions and gameplans to help myself going forward. From cravings to gut health to the science of weight loss, Michelle explained everything with compassion, knowledge and true empathy because she is also an imperfect human who understands the balance of health and enjoyment of life (and how wonderful a glass of wine can sometimes be). I met with her 6 times throughout this challenge and she was also available by e-mail for those moments of frustration and questions. 
When it comes to the fitness side, I'm 100% certain that without Sasha I wouldn't be pushing sleds, throwing medicine balls or doing push-ups. While starting each session at the gym wasn't always easy, every time I finished I knew that I was making myself stronger, healthier and, yes, a little bit skinnier. She challenged me and filled me with confidence about her ability to train with me. You could see the care she put in to creating my individualized workout plans and she was always willing to work together to adapt something where necessary. During my 3-4 sessions per week in the gym, she got my heart rate up and she got me sweating—two very difficult tasks for someone with paralysis. And I never felt like she went easy on me because of my disability—although now, come think of it, we never did leg day.
Throughout this challenge I had good weeks and bad weeks. Mental health plays such a huge role in my—and so many other people's—ability to eat well and exercise, and those issues along with life's daily stressors didn't just disappear for me during these last 12 weeks. Honestly, I could write an entire post about my anxiety surrounding food and how I use it as a form of self-harm and self-sabotoge—but that's for another day. However, something that was important to me going into this challenge, was that it would be sustainable, livable and realistic. Even with those weeks that didn't turn out the way I wanted, I still made progress. And I'm happy to report that everything I've experienced during these last 3 months will work for me. 
I can get my ass to the gym 3 times a week. I can plan healthy meals and eat well—most of the time. I can occasionally indulge without guilt because I know that, overall, my choices are so much better and I feel so much better. And I can accept that some weeks will be harder than others because that is life—it doesn't mean it all goes to hell. No, I'm not one of those people who lost 30lbs in 12 weeks, but I'd rather my progress be slow than unsustainable. I'm definitely still a work-in-progress, but aren't we all? 
Honestly, If you are looking to get fit and/or get your diet under control, you cannot go wrong with True North Strength and Fitness or Westcoast Nutrition. While they graciously offered their services to me for this challenge, I have only given you my true feelings about them both. And I have chosen to continue working with them as I strive to meet my health and fitness goals. You never feel like just another client or just another face in the gym. Your goals become their goals and they want to see you achieve them. They will push you because they see your potential but will not overwhelm you. Whether you want to make a change for yourself or your motivation surrounds your desire to become a healthy role-model for your kids, you need to check them out. You won't regret it.