Being nominated as a top 30 blogger at VancouverMom.ca​ has been very exciting. Not only is it amazing to have my blog recognized, but to be chosen among 29 other women who are creating and sharing content they are passionate about is humbling. Help Codi Heal has grown with me through my injury and I wanted to give a quick snapshot of how it came to be.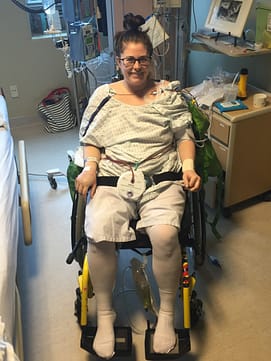 This photo is a good representation of where Help Codi Heal began. I forget sometimes that the blog only exists because of my accident. It seems strange that something so fulfilling in my life stems from something that was so devastating. Although maybe I wouldn't have needed fulfilled had the devastation never occurred.
Regardless, this was me. I was 3 days post-injury and overwhelmed with messages and phone calls and feeling incapable of responding to everyone in a meaningful way. Many would say I didn't have to reply but I wanted people to know the truth and I wanted to reassure them that I was okay (or possibly, reassure myself). I started writing short posts on Facebook and Instagram to help keep people in the loop. The posts were honest because I didn't see the point in being anything else. My posts got longer and the response got larger and eventually I realized that documenting this journey was beneficial for more than just myself.
That's the short version of how Help Codi Heal came to be. I write here for many reasons from awareness to coping. But, at its core, it is about reassuring everyone (including myself) that life is good. It feels pretty great to be at a point where my blog is being recognized. Thank-you for following and thanks for voting!
You can vote daily now through June 8 for your favourite blogger at Vancouvermom.ca