Life is busy and I think everyone looks forward to an escape. Travel was the furthest thing from my mind for many weeks after my injury. Initially, I assumed that it would be too difficult to travel with a wheelchair and a spinal cord injury. What I have learned about travelling in the almost 18 months since my accident is that it is different and there is more planning involved, but it is most definitely not impossible and can still be awesome. I have travelled by boat, plane and car since my accident and while we come up against big and small hurdles almost everywhere we go, there hasn't been much we haven't been able to overcome.
Almost every summer since I was a little girl, I have taken a trip to the same location –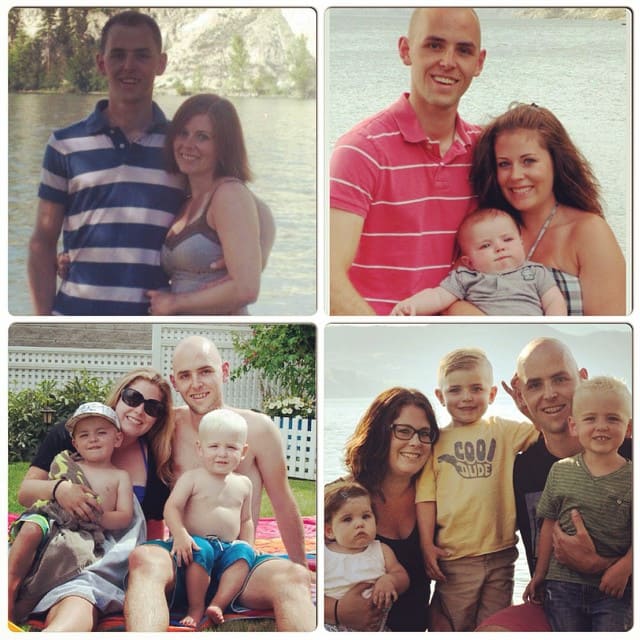 my summer spot. My husband did the same. Once we met, we started joining each other's families on their respective summer getaways. We have some pretty cliché stories of making out behind cabins and in the back of cars. Those adolescent summers effortlessly transformed into the adult variety with bottles of wine and good conversation by the lake. Ian and I had all of these ideas in our heads of what it would be like to continue with tradition and bring our own little family to our favourite summer destinations. We wanted to raise them to enjoy annual trips to the lake with grandparents, aunts, uncles and cousins. We kept going as our family grew (missing only one summer I think) until the summer before my accident. Our daughter was just about one year old and I remember having a moment where I thought to myself that all of those dreams I had about creating summer memories in these places were becoming reality right in front of me. It was a feeling of coming full-circle; it was satisfying.
Fast forward to March and those dreams that had felt so tangible just 7 months before, now felt distant and threatened. The cabins we had spent so many weeks in would not accommodate a wheelchair and beach access would be sketchy at best. I also struggled to imagine a vacation where I would watch other people take my place in the scenarios I had played out in my head so many times. I needed to find getaways where I would still feel like part of my family and still feel purposeful.
With the decision to not go back to our summer spots (at least not yet) we felt a great deal of loss but also realized we needed to focus on new dreams for what the summers of our children's childhoods would look like. For now, we want to discover more of our own province and explore all of the beauty that is in somewhat close proximity to our own home. This summer we did a lot of local day trips but a couple of weeks ago we felt like we needed a few days to get away. Before the wheelchair, I would Expedia some hotel and we would just go. Now it's a bit more complicated and I wanted to highlight some of the highs and lows we experienced on our most recent trip.
Spontaneous travel isn't so much a thing for us anymore. I don't always necessarily need an accessible room/condo/cabin but I do have one non-negotiable requirement: I need to be able to get inside the bathroom and use it independently. We can deal with beds that are too high, not being able to get around the entire suite and even not having a mirror I can completely see myself in. But having a usable bathroom is a must! Because of this, planning takes a bit more time and effort and usually a few phone calls.
For our most recent getaway, we decided to go up to Whistler, British Columbia. We never expect perfection when it comes to accessibility but we found a vacation rental condo that seemed like it would work well enough. The bathroom was small but it had just enough space for me to get in and out and transfer. The mirrors were even low enough for me to see my entire head which is incredibly rare. It worked surprisingly well for a room that wasn't made to be accessible – it worked even better than some rooms that are.
On our drive up to Whistler we stopped in Squamish and took a gondola ride 885m above sea level. I was nervous to go up as I seem to have developed a fear of falling (I can't imagine why), but it was my son's sudden fear of heights that quickly switched me out of anxiety mode and into mommy mode. He was easy to calm and I was distracted enough to forget my initial trepidation.
Getting on and off of the gondola was simple enough. They slowed down to give me enough time to wheel in and out. The ride up was beautiful but seeing the hiking trails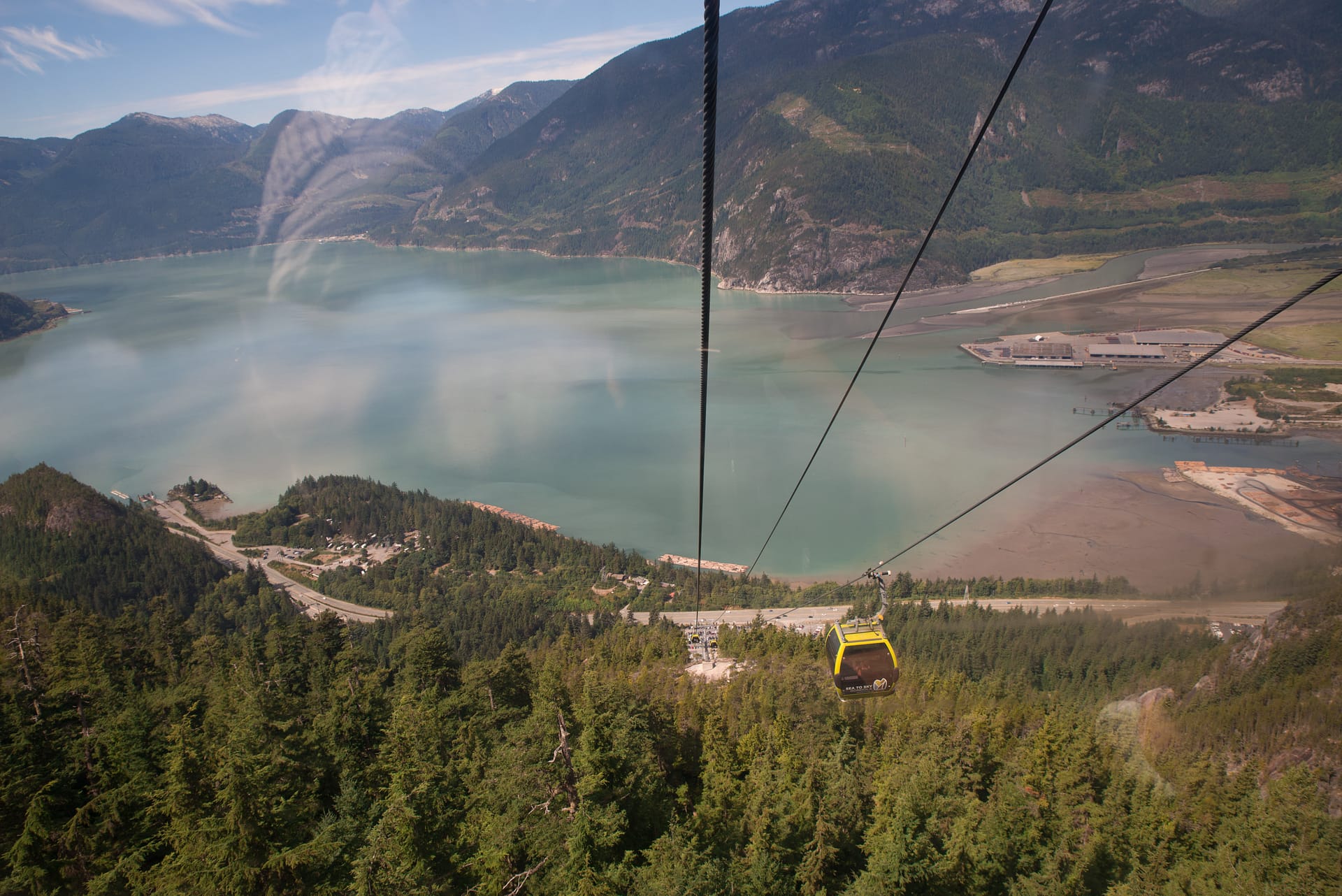 below definitely felt like a bit of a jab. Once we were at the top we ventured over to the first lookout point which I could access easily. I was starting to feel pretty confident in myself and the first stop of our trip. Everything was easy and accessible and I didn't require any help. I think I was feeling a little bit cocky as I looked around and thought that we were doing this little adventure just like everyone else there.
Then it was time to tackle the suspension bridge. It didn't look like it would be difficult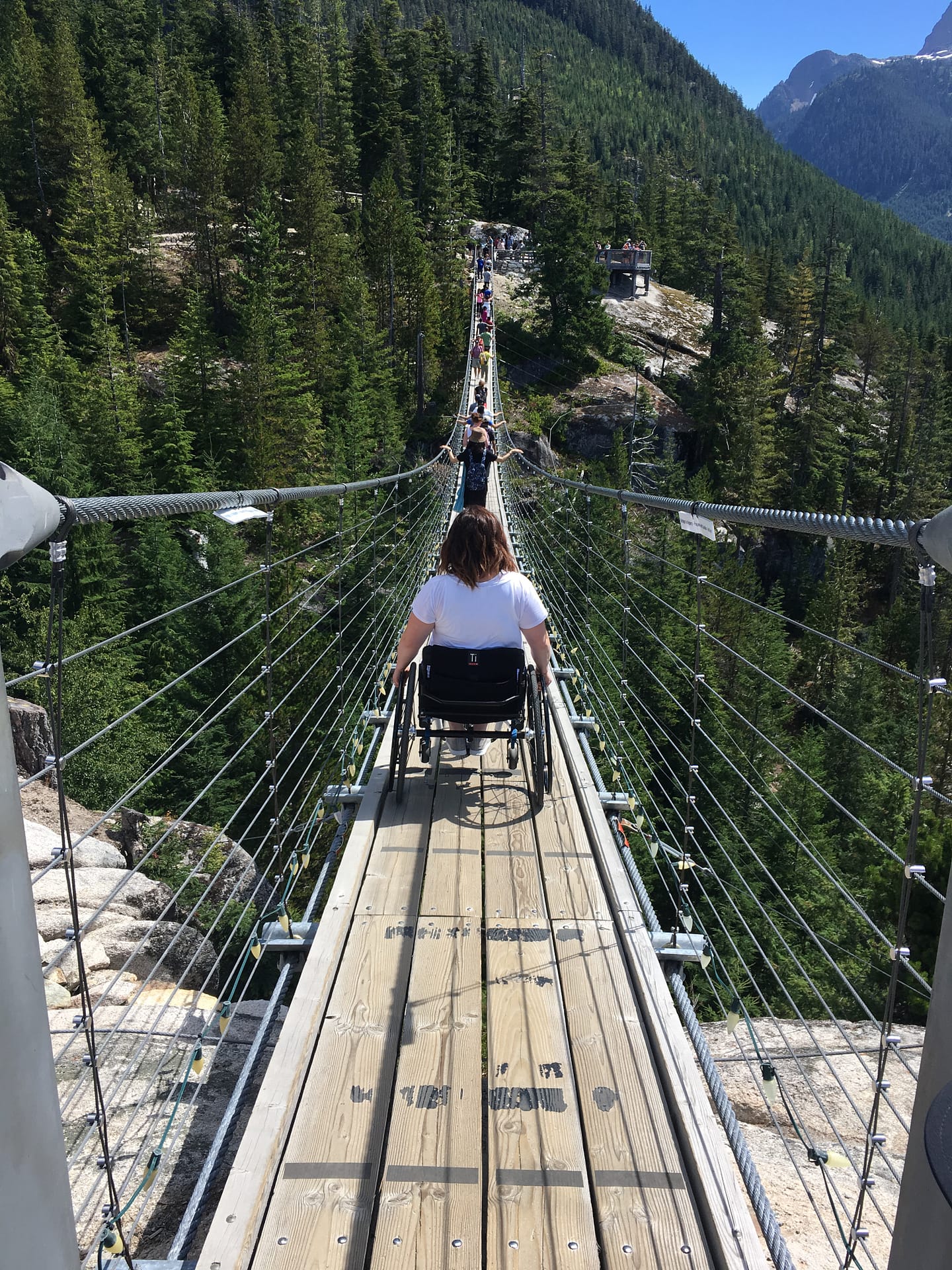 but as I reached the halfway point I realized that I was wrong. The incline up to the other side became too much for me. My family had gone in front and some lady was trying to help me (which I hate! Never ever ever help someone in a wheelchair unless they have asked). I got very panicked and frustrated. My husband managed to get behind and help push me to the next platform. I could feel my face was red and I could have probably let myself cry but managed to refrain. Those previous feelings of confidence were quickly replaced with self-consciousness and frustration and it was the first time on our trip where I said "I just wish I wasn't in a wheelchair". The self-pity was relatively short lived as we were still on top of a mountain and needed to get down.
In order to get back to the gondola we had to go down a trail and it was steep! I'm sure some wheelchair users could have done it on their own but I could not. My husband had to hold the back of my chair to help slow me down as I avoided rocks and, well, the edge. In the meantime, my children were freaking me out by walking too close to the edge of the path themselves. It was not a huge distance we had to cover but it evoked a good amount of stress.
I was disappointed that I couldn't get to the third lookout or wander around any other trails but also somewhat proud of us as I looked back at what we had just done. But then I was again frustrated that I couldn't do it all independently. I started to think that if I was able-bodied we could easily head back around and do it all again but that, in the wheelchair, once was enough. However, there was a time when I didn't think I would ever witness a view like that again or have that experience with my children and so the simple fact that we were up there was reason enough to celebrate. And with that, we headed back down the mountain and on with our trip.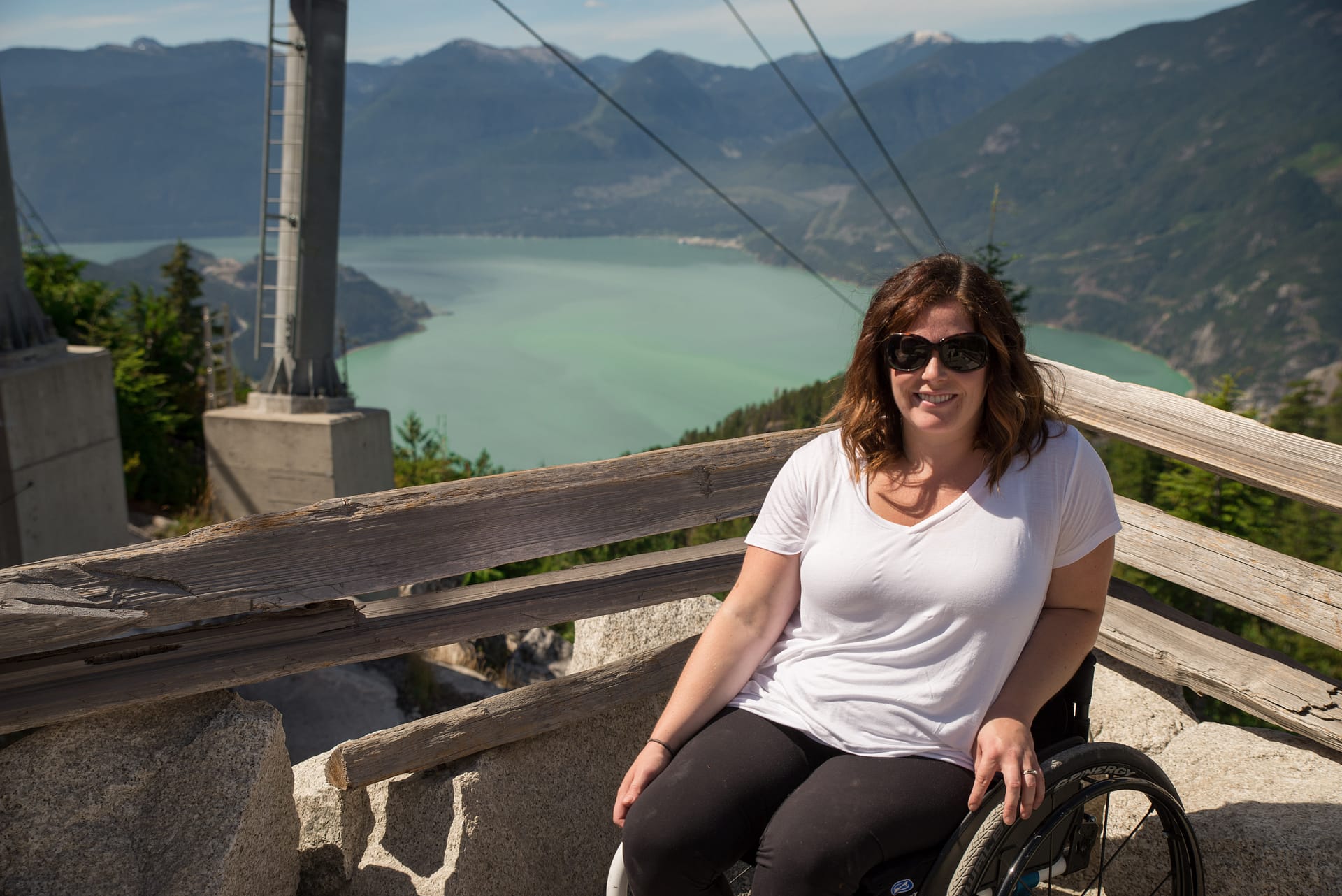 We got to Whistler and wanted to wander down to the village. We found a trail that was paved all the way down and figured that we could easily manage the walk. And we definitely could have easily managed it, if we had taken the right trail. We took a wrong turn and ended up coming out onto the face of the mountain. Sure, we could have turned around and figured out where we went wrong but that would make too much sense. Instead, my husband convinced me that it didn't look all that steep or all that far and we could make it down without too much of a problem. About half way down, I was sweating, my wheels were covered in dust and my hands were burning from trying to prevent myself from taking off down the hill at warp speed. I was ready to divorce my husband who was so confident that it wouldn't be that difficult and all I really wanted was to be at the bottom. And then, all of a sudden, I was. I'm sure we looked absolutely ridiculous on the way down – dodging rocks and uneven terrain –  and I certainly don't need to do it again, but we did it. Teamwork for the win and the status of our marriage was stable once again. Thankfully we found the correct, paved trail back to our condo.
The village at Whistler was really easy to get around. The restaurants and stores were accessible and I could watch my kids without too much effort as they played around in the Adventure Zone. There was even a fully accessible playground that not only made it simple for me to interact with my children but also would be accessible for children in wheelchairs to play on the equipment. It was probably the best accessible playground I have been to thus far.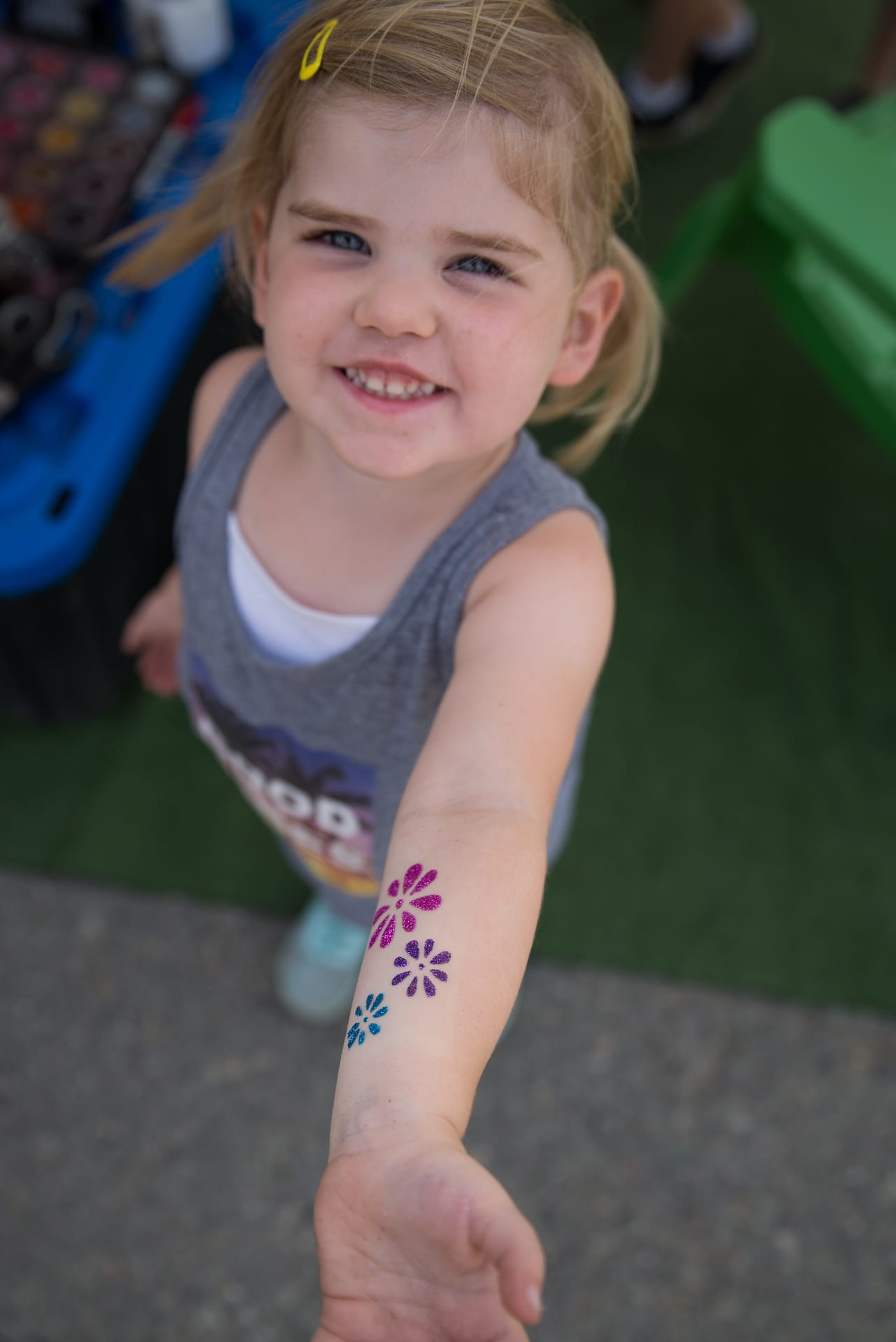 There was one activity with my daughter where I had a "I just wish I wasn't in a wheelchair" moment. I took her to get a glitter tattoo and all of the pictures she had to choose from were in a little hut that I couldn't get into. There were other moms waiting who were very sweet. They helped her and I could see from the doorway and kind of guide her, but it was very obviously a moment where the wheelchair got in the way. My saving grace is that my sweet girl never seems to notice.
One thing I was really grateful for in Whistler was my SmartDrive!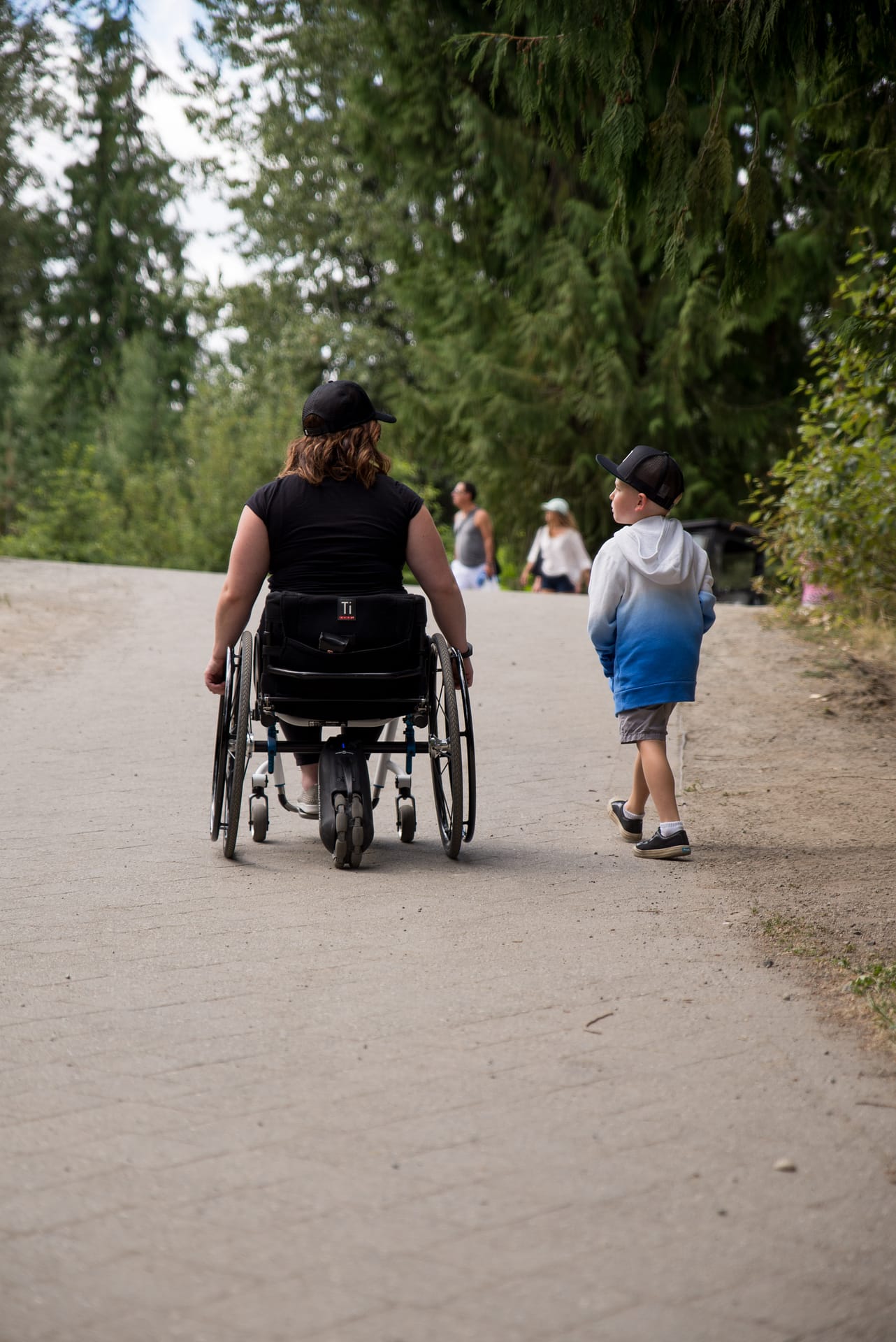 It is a motorized wheel attachment that goes on the back of my chair for when my arms just can't cut it. I use it mainly in big theme parks or zoos so that I can independently keep up with my family when the hills get to be too much. I figured that it was probably smart to bring it along being as we were going to be on a mountain. Having to rely on help from other people really stresses me out and being able to engage my SmartDrive when I'm struggling makes a huge difference to the level of my enjoyment and having it on this trip was no different.
One thing that my kids have been begging me to try is handcycling which is essentially a three-wheel bike that you control with your arms instead of your legs. I had been reluctant to try it (like I am with a lot of things), but I discovered that there is an adaptive sports program on the mountain and they rent bikes. I figured it was a good time to try it. I was excited when it was dropped off but quickly became discouraged when it didn't fit right. After about 45 minutes (and a few transfers in and out) we finally got it working enough to go for a bike ride.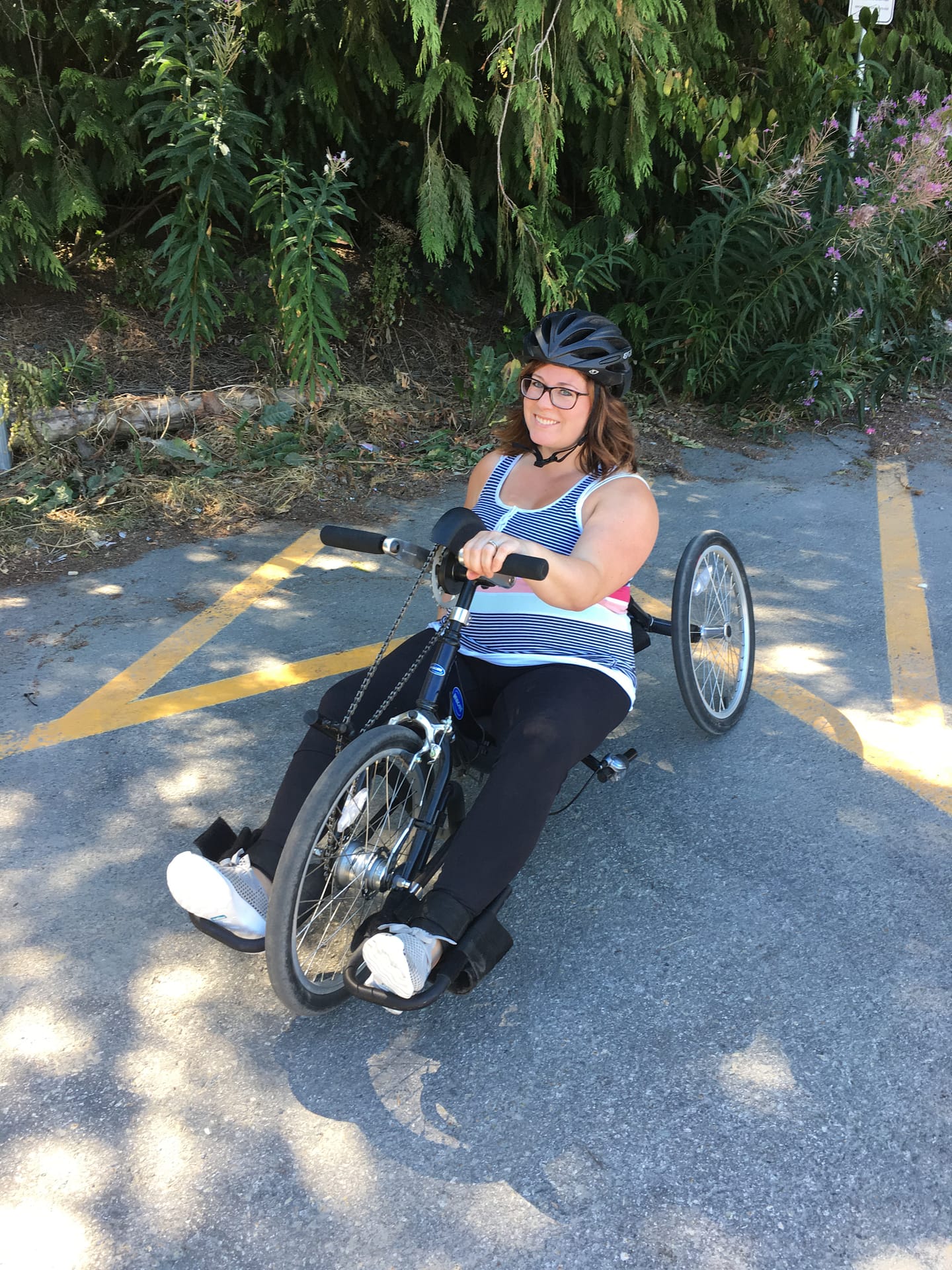 We were told about a trail that was mostly flat and would be a good loop for us to attempt. Well, it wasn't flat and it wasn't easy! On a few of the hills I even needed Ian to help push me up because they were too steep. The experience was a lot of work and didn't go nearly as smoothly as I had hoped. There were a lot of "I wish I wasn't in a wheelchair" moments but there were also a lot of moments where I enjoyed myself and the feeling of being out and active with my family. I think I would be willing to try again in a different situation but by the time we were finished, I was exhausted!
Exhausted or not, we went back to go swimming. I went from my chair, to the pool, to my chair, to the hot tub and then back up into my chair. At that point, the kids went back into the pool with Ian and I was left feeling that familiar feeling of loss. If I wasn't in the wheelchair, I would be back in the pool with them; instead I was watching. I struggle to commend myself for the effort I make and find myself feeling frustrated at my limits. I find there is a very fine line between participating and overdoing it. I get nervous that I will destroy my shoulders if I do too much and then where will that leave me? But when I don't participate, I feel regretful and sad. I don't imagine there is a right or wrong answer.
The other very difficult realization for me is that my body tires easier now. I like to think I can still keep up and do everything I used to do, but my body doesn't agree. After swimming, I had to get ready to head out for dinner and all I wanted to do was curl up in bed. It's not the kind of tired where you need a caffeine fix. No, it's a feeling like my entire body has given up for the day. My husband was there to remind me that I had to keep going and so I did. But I was in bed shortly after the children that night!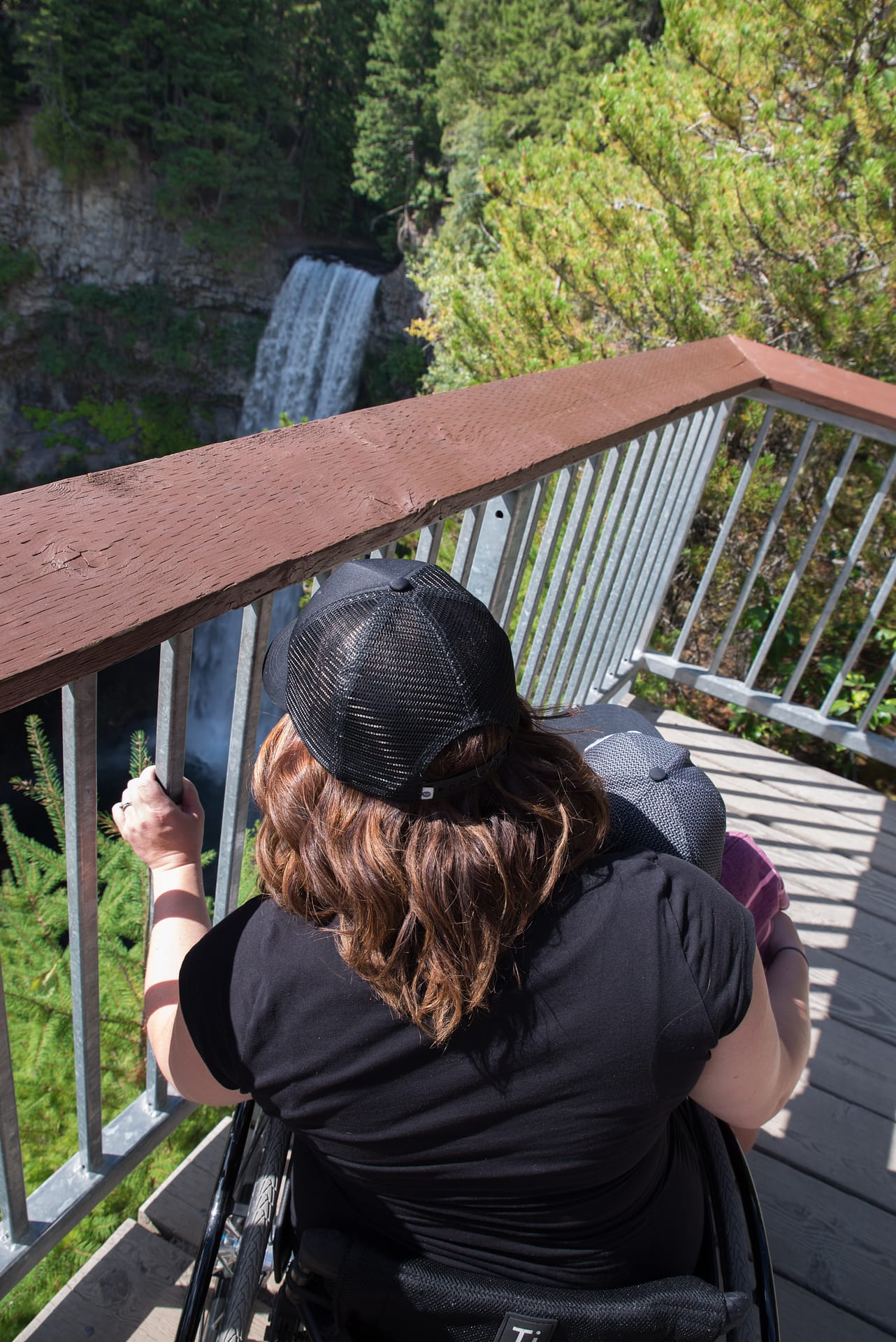 I would say the very last thing we did was probably my favourite. We had been told of a
short trail (about 15 minutes) to a waterfall. We decided to give it a shot. I have a freewheel which hooks on to the front of my chair to lift up the smaller wheels and help me manoeuver over slightly more difficult terrain, but I hadn't been in a forest/trail setting since my accident. Even the drop in temperature when we entered the forest felt familiar and was something I didn't realize I had missed. I was able to wheel almost the entire trail on my own which felt pretty amazing. I only needed help on a couple of hills. The waterfall was pretty but the drop down from the lookout stoked my anxiety and we didn't linger long. Most people go for the view at the end but I enjoyed the getting there.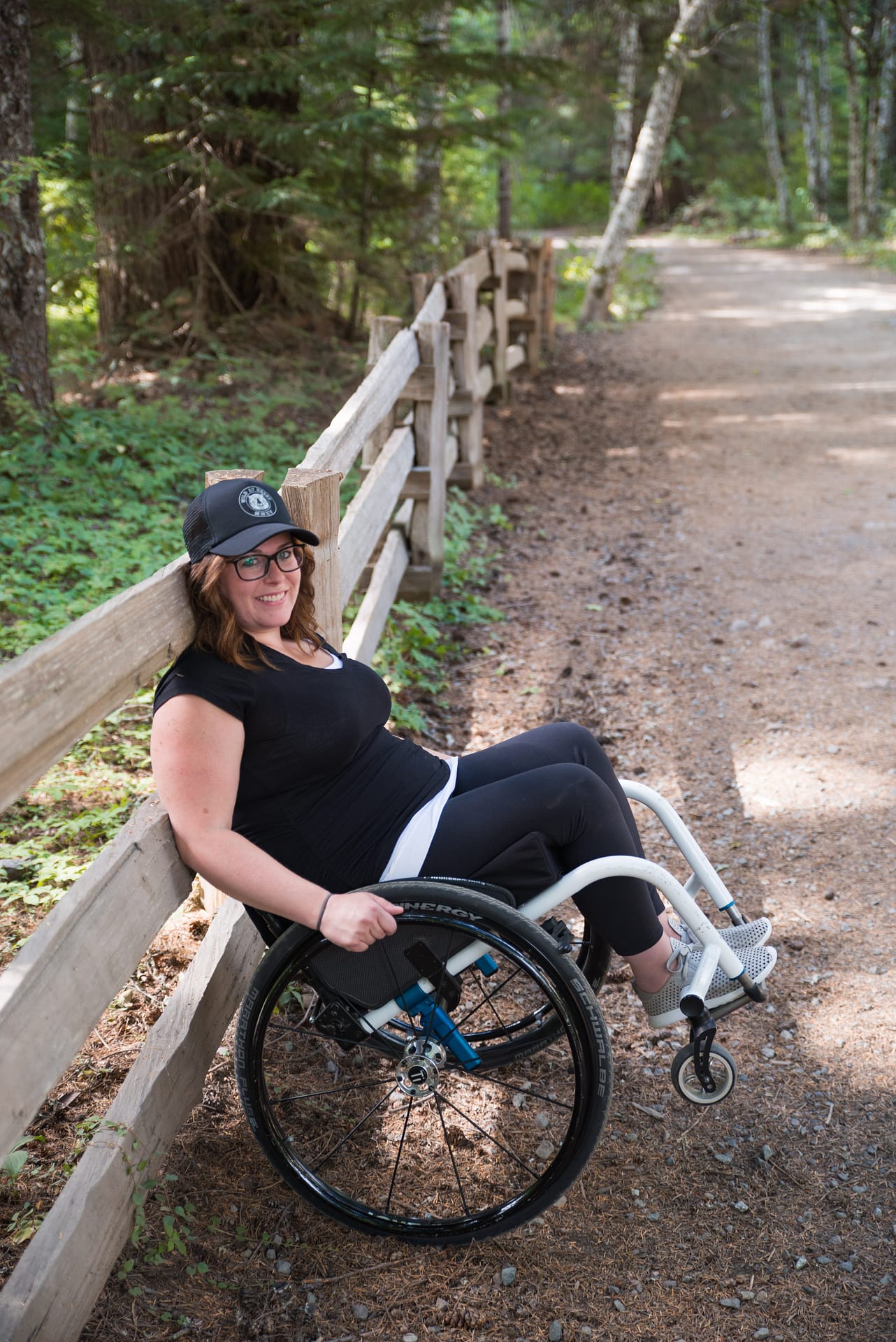 Our trip was short and bittersweet. There were so many things I enjoyed and moments that I will remember. Our littles had a blast and never once complained about the extra time it would take to do something because of the chair and they always encourage me to try; they always want me to join in. There were quite a few firsts on this particular trip and, like in so many things, I'm proud of us for what we accomplished but frustrated that we've been put in the place to have to adapt. I still look at situations and think about what we would be doing differently had my spine remained intact; I still mourn the dreams that won't become reality. But I look forward to new plans, new adventures and new dreams. Just because it's different doesn't mean it can't be great and the real tragedy of our life would be if we stopped living it because of a little change of plans.
There is so much more to accessible travel then what I have showcased here. Leave a comment and let me know if you would like to hear more about our travelling experiences and tips that we have for making it go smoothly.