There are a lot of people out there who call me brave for sharing my journey so openly. Many of them wonder why I choose to expose my life to anyone with an Internet connection and a screen. In all honesty, I have asked myself these questions more than once. There are days where attempting to turn my thoughts into something coherent seems almost impossible. There are moments where I feel misunderstood. Some days I am overwhelmed with gratitude for the feedback I get from readers, while other days I worry that I'm not reaching anyone. And all too often I feel anxious thinking that I might disappoint someone by not always seeing the silver lining.
In these moments of writer's block, frustration and unfounded fears, I question all the reasons I have for this approach I've taken to healing.
Why do I write? Why do I share? Why do I devote time every day to my keyboard?
There are multiple in depth answers to these questions that continue to change and develop as I move forward in my recovery. But the short answer is simple: I love to write.
Before my accident, I had a small 'mommy blog' that I enjoyed working on but didn't have much time for. After my accident I started to write small updates on social media to keep family and friends informed of my progress. I found that when I didn't update for a few days, my mood declined and I would start to get caught up inside of my head. I would journal, but I always felt as though my thoughts were more organized and that I felt more refreshed when I was writing something for the purpose of posting it. It just worked for me. My posts started to get longer and my community of readers grew. Eventually it all lead to this blog.
Just the other day I had coffee with a friend and we were discussing the positives and the pitfalls to writing such a personal blog. At the end of the day, this collection of writing is who I am. I'm not putting on a persona; I'm not becoming a character. I'm giving you me in all of my stubborn-sarcastic-trying-my-best-but-still-a-mess glory. But sometimes…sometimes it's difficult to comprehend that so many people know me on such a personal level but I don't know them at all. Sometimes I wonder if sharing my life is necessary. And in the midst of this conversation, she told me to ask myself a question – something she has written down in her office at home…
What best serves the growth of my soul?
It's such a thought provoking question and got me thinking about the days where I doubt my writing and I doubt my purpose. I realized that any thoughts I have had about my writing being too personal were from a place of fear – fear of people thinking I'm wrong; fear of people thinking I'm unjustified; fear of being judged. And when I allow myself to move past that hesitation, I discover that writing and posting on this blog best serves the growth of my soul and best serves the state of my mind. In the end it doesn't matter if I'm judged because this is for me.
Unless you are new here, you probably know that I have three little people who depend on me; I am their one and only mom. And my main goal from the beginning of all of this was to be able to function in a capacity so that my children don't feel like they lost their mom – especially because I am still here. But I realize that in order to be the mom that they need me to be, I have to recover myself as well.
Writing helps me rediscover and redefine who I am since my accident. It helps me to cope with my journey. And, like I said before, the process of preparing a post helps me to organize the most important of my thoughts and emotions. And when I post something, I can let those thoughts and emotions go for a while because I've given them space and resolve (well…at least for the moment).
There are many posts I have written that I have not gone back to read yet. However I recently went back for the first time and read my post "Remembering Her" which was very personal and tough to write. I read it as I sat in my kitchen, alone, with tears streaming down my face because it all still rings so true to me. I remember that I was so caught up in the post as I was writing it and I could think of nothing else until I published it here. It was incredibly difficult to take my mind to those places, but the sense of freedom I experienced after I posted it was like nothing else.
I think it would be ignorant of me not to admit that blogging was helping me grow –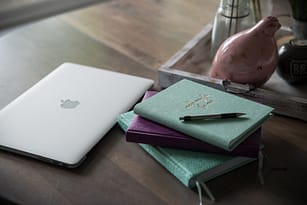 helping me cope. It would be a huge step in the wrong direction for me to stop sharing. The cathartic release I get from this process is unlike anything else I have tried. And while there are definitely pitfalls to putting myself out there, I think the benefits far surpass them. And at (almost) 30 years old I've discovered that this girl needs to write…even if nobody reads it.
There are days when writing comes to me so easily that my 80wpm typing speed cannot keep up with what I want to say. Then there are days where nothing I say makes sense and I spend my writing time taking typing tests online to check my speed (my record is 87wpm…in case you were curious). The posts may not always be stellar, but they always mean something. There are always thoughts to comprehend, emotions to work through and life to process. What I write about may not change your life, but I wouldn't publish it if it didn't help me change mine. However I do hope that every once in a while, I say something that makes you think.
There is always work we can do to better ourselves and I encourage you to try and minimize the things in your life that don't help you to move forward in a positive way. I needed the reminder that just because something is sometimes difficult, it doesn't mean it isn't doing me a world of good. Ask yourself the question 'What best serves the growth of my soul?' Because we all deserve to grow and we all deserve to discover something that helps us do that.